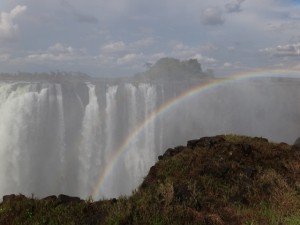 "At dawn and dusk wild animals  such as lions and elephants roam the streets of the centre of town, take a taxi at these times". At last an original warning in  the 'dangers and annoyances' section in my guide book. And they were not joking. Just a month ago a number of people from some church congregation that were doing an evening 'open air mass' on the edge of Victoria Falls town in Zimbabwe were chewed up by a couple of lions.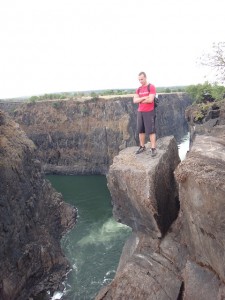 My original plan was to skip the Victoria Falls on this trip and continue straight into Zimbabwe after the canoe safari. I wanted to keep the falls for a next trip and it was the end of the dry season so the falls would be pretty dry anyway. However all the local people I met, told me that you should see the falls both in dry and wet season. In the wet season the volumes of water are a lot higher and so the falls are a lot more impressive and the spray is enormous. In the dry season you can get much 'closer' to the falls and you can actually take pictures without an underwater camera.
As I had some margin on my planning and I was prepared to sacrifice some 'beach time' in Mozambique, I bought a bus ticket to the Zambian border town Livingstone, wham bang back into tourist central! All the travellers that seemed to have disappeared after Zanzibar were back. The reason is that Vic falls is a typical start or end point for all the 'overland truck' trips that I talked about earlier.
And also there is plenty of "activities" to keep you busy and empty your wallet: from bungee jumping and rafting to helicopter flights and game drives. I had a bit of a "been there, done that and bought the t shirt" feeling for most of the activities though. Some other activities I think are just 'wrong' like riding an elephant or walking with a lion cub on a leash. I think my previous experiences with these animals has given me too much respect for them to do these kind of activities. There was however one thing I wanted to do and that
was to 'get close' to the falls so I booked a walk to 'devil's pool', a little pool at the edge of the main falls.  The trip is not something for people suffering from fear of heights as you walk along the edge of the mostly dry falls to the point where the main falls are, the ones that keep going all year long…And there you jump in a small pool in the river about 1m from where the water is thundering down and you swim for a while. You also get the chance to hang over the edge and look down the falls while one of the guides is holding your legs.
So from the Livingstone, I crossed into the town of Vic Falls Zimbabwe from where I started to work my way through Zimbabwe, a country that has seen so many troubles the last 10 years: hyper inflation, evictions and murders of white farmers with presidential
consent, large scale election fraud, intimidation and violence (several hundreds of 'opposition members' killed and thousands fled the country). The result was a complete collapse of the economy, including the until then booming 'tourism industry'. Tourism has far from recovered and the whole tourism infrastructure still lies in tatters. Most of the hostels are closed, almost no organized tours and especially very little information available (Lonely Planet on Zimbabwe is completely useless!). All this makes that it is pretty hard travelling there. Or as the owner of a hostel in Zambia said "only the diehards go to Zimbabwe". Apart from the tour groups near Vic falls I have met only 3 other foreign (two of them African) travellers in the 10 days I spent in the country. It was a difficult but very interesting 10 days however. I travelled mostly by night train which I can really recommend: it is cheap, safe and an excellent way to get in contact with the Zimbabweans. The trains tend to be delayed by 4hrs on average but hey I know all about trains and delays at home.
The first train I took was from Vic Falls to Bulawayo and it goes through the Hwange National Park. At one of the first stations the elephants were walking right next to the train. The elephant population in this park is enormous and so a lot of accidents happen with the train. Only a couple of days earlier a train had been delayed for 10 hours after hitting an elephant. The locomotive had to be replaced and in the meantime the people on the train chopped up the animal and had a gigantic BBQ… apparently it was quite a party.
The train goes right through the wilderness, miles and miles away from any roads, towns and villages and still at regular times people would descend from the train and just disappear in the bush. The guy with whom I was sharing a compartment, explained that these were 'new villages' (just a couple of huts) that had been founded during the high point of the economic crisis. People just fled into the wilderness and tried to survive from farming and hunting (read poaching). The result was that all wildlife has disappeared from these areas.
The town of Bulawayo actually looks pretty OK. It looks a bit like a slightly run down version of towns in Australia or South Africa. The shops are well stocked, there is gas at all gas stations, the youngsters are playing with their blackberries. There is even an Iphone here and there. But when you scratch the surface a bit you see that it's not all that great. Great parts of town have to do without water and electricity for at least 2 days a week: Monday and Thursday no water, Wednesday and Sunday no electricity…Away from 'main street' you quickly notice quite a number of businesses that went bankrupt.
From Bulawayo, I wanted to visit the Matopos NP but here the lack of fellow travellers caught up with me. As all the guides and taxi drivers have a minimum of 2 people to go there. As I don't have the budget to pay for 2 persons, I had to skip the park this time. A real pity.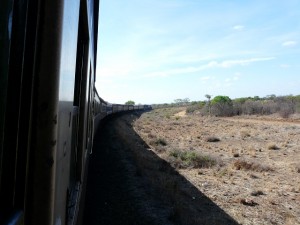 Instead I took another night train to the capital of Harare which was delayed by 6 hours but that didn't really bother me as it was a very interesting ride, thanks to my fellow passengers. One guy who used to work for the railways explained that the delays were not really due to problems of the train itself but rather due to the signalisation. Or rather the lack of it. All signals had been either vandalized during riots or were just in disrepair. As a result train drivers are now using radios to advise all other trains where they are. No real central coordination, so as soon as they think they are getting within 10km from each other they start going really slow! He assured us there was no safety issue at all…
Seeing all the closed industrial buildings along the way, they also explained me about the famous 'evictions' of white farmers from their lands the last 10 years. These people were thrown off their property by 'friends' of president Mugabe under the pre text that the white settlers had stolen these lands from the locals or that they were too big and that their wealth had to be redistributed. If they did not agree they were chased away or even killed. What we did not really learn in the western media was that not only white farmers were impacted but all 'opposition' farmers. My new friend on the train had a cousin (who is not 'a white settler') who had to give up two thirds of his lands. A lot of farms that were split up this way were just stripped of all their assets and then abandonned. Someone takes the tractor, someone the plough, etc. until even all the doors from the farmhouse are gone. The result: Zimbabwe now has to import all farm products that it used to export.  And unfortunately-and there is nowhere as much rumour about this in our media- the same thing is happening now with the industry and commerce. Once a business starts to do well some government agent (friends of the big chiefs) will come and claim part of the business, assuming it will be a cash cow forever. They don't bother to manage the business properly and so often it just goes out of business, leaving hundreds of workers unemployed while the officer just moves on to a next victim. The former railway worker kept saying how much it hurt him that his favourite fast food chain had gone out of business this way.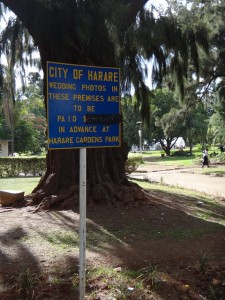 In Harare I got off the train for a couple of hours, to check out the city before boarding another night train to the border town of Mutare. Another interesting train ride. The train was supposed to leave at 9.30 pm but when I woke up at half past midnight it was still in the Harare train station. Somehow however we did arrive in time in Mutare. From there I had planned to do some hiking in the Eastern Highlands, the "alpine" region of Zimbabwe. However getting there, really tired after 2 nights on the train and with a guidebook that said that there was no affordable accommodation in town , I was seriously considering skipping all this and heading straight into Mozambique. However I just wanted to check out this 'backpackers place' (An Bruce lodge) that I had heard about from another traveller.  It turned out to be a real blessing. Mrs Bruce is a really nice lady that has lived in Zimbabwe her whole life and really tries to help the very few travellers that get to the town of Mutare. She has had the lodge since the early nineties and it was the only place that survived the crisis mainly because she just offers a number of rooms in the house in which she is living herself.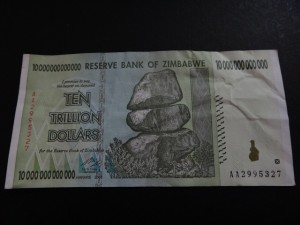 On the wall she has an interesting poster of the evolution of the banknotes during the crisis. The notes went from a maximum amount of 100 Zim dollars to a maximum amount of 100 trillion dollars (100 000 000 000 000) in about 5 years. Mrs Bruce explained that at a certain time they were changing the prices in the supermarkets every 2 hours and could still not keep up. Until it all collapsed and there was just no more products available on the shelves. Hundreds of people would fight for a loaf of bread or if they could afford it they would cross the border into Mozambique to buy food. Another guy showed me a picture of a pick-up truck completely loaded with notes (of the million, billion and trillion dollar kind). He was taking it to the market to invest in some cattle before it all would become completely worthless. He was lucky because soon after the only currencies that still had some value were the USD and South African Rand. The 10 trillion dollar note in the picture, I got in exchange for half a box of cereals at the border with Zambia. The introduction of the USD, a couple of years ago stabilized the economy more or less . One 'funny' thing is that there is often no change (coins) so for amounts that are smaller than 1 dollar you get to choose something at the counter. They have boxes with sweets, pens, telephone/internet time but most popular seems to be the lolly pops. So when I got back to my hostel after a trip to the supermarket eating my lolly pop a friend of Mrs Bruce asked me if I was enjoying my 'change'. I was.
Thanks to Mrs Bruce, who gave me the coordinates of a really nice place near the Chimanimani National Park, I did eventually see and do what I had come there for; hiking in the eastern highlands. It's not quite Switzerland or Nepal but I spent 2 nice days hiking there and climbed a mountain that was both the highest mountain in Mozambique and the 2nd highest mountain in Zimbabwe as the border is exactly on the summit.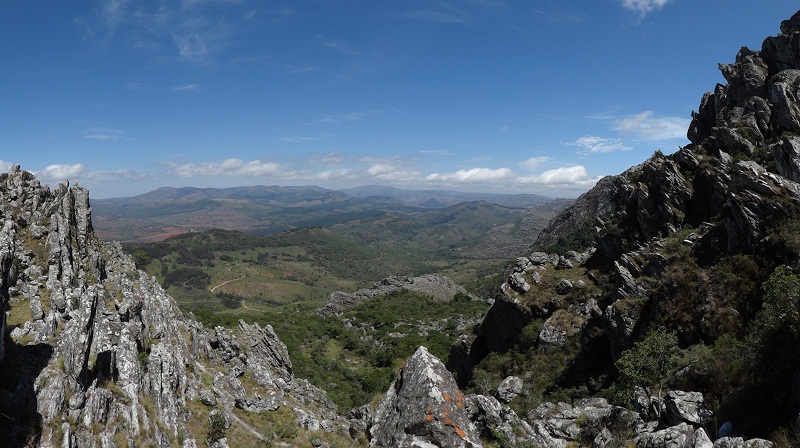 After these 10 days of hardcore travelling, I think I have deserved some 'beach time' but before that there was another 2 days travelling from Zimbabwe through central Mozambique.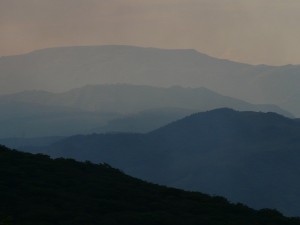 By the way, a big thanks for all your comments and messages. It's nice to hear that you are enjoying our posts. Keep 'em coming!
[ad-gallery orderby="menu_order" width="550px" height="300px" imagedesc="none"]