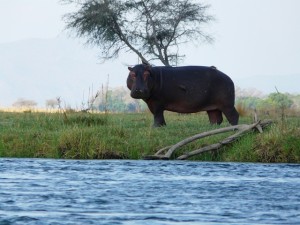 "The best thing we did in Africa ", "A real safari!", "A must-do in Southern Africa". In preparation of this trip I had been reading the reports of a number of 'long time' Africa travellers. A lot of them had been raving about this canoe trekking safari. The pictures I saw looked spectacular but nothing compared to what awaited us on the Zambezi river. There was however also a number of reports on accidents that had happened on the river. A number of crocodile and elephant attacks but especially incidents with hippos (canoes being capsized or bitten in two, limps being detached by enormous hippo teeth). A friend in Belgium even told me that if he had known about these incidents before he would never have done the trip.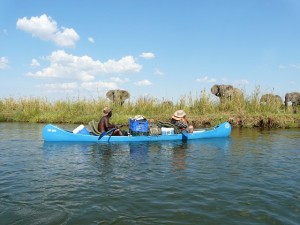 Ever since I took a basic canoe course (with the great people of Canad) in preparation of a trekking I was supposed to lead, I have been hooked to this way of travelling. The fact that I could combine a trekking with 'big game' viewing made it all the more special. You only live once and the chance of having a car/bus accident in Africa is a lot bigger than being eaten by a crocodile. This was again highlighted by a big sticker on the window of the minibus that was supposed to get us to the starting point: "Pray hard!"… Always a good indication of the driver's driving skills. We got there safely and camped by the river taking a lot of pictures of the resident hippo. We would see a lot more on the river but would not have much time at such moments to take pictures.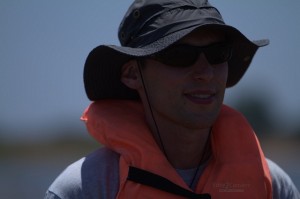 The next day we met our guide 'CB' that would need to get us safely down the river. We started with a safety briefing. CB explained that he had more than 15 years of experience on the river and that he knew the river very well but that wild animals are never 100% predictable and that unexpected things would happen. He continued that there would definitely be moments where we would be scared and that we should warn him so he could 'accommodate this somehow'. Another little piece of advice was to keep hands and feet within the boat to not tempt the crocs more than necessary.
And off we went…Not even half an hour in our trip and we spotted the first 2 elephants making the trip a success for Malcolm (my Dutch friend who just wanted to see an elephant before leaving Africa). By lunchtime we had seen about 10 elephants. Taking pictures proved difficult though. Malcolm and I were sharing a canoe and were concentrating more on keeping the canoe on track and away from the hippos. After lunch we split up and continued on each with a guide. Now we really got close to the elephants! The guides were able to steer the canoe in such a way that we could drift past drinking elephants without having to paddle and make noise that would disturb them. The animals didn't even notice we were there and just continued with their
business. However we were not alone on the river and during one such a 'drift by', an idiot in a speed boat at the other side of the river, raced right by a pod of hippos. The hippos went totally berserk and the elephant that was drinking about 2 meter away from us, suddenly started to panic, noticed us and thought we were the bad guys. It launched a 'mock (fake) charge', the final warning before an actual attack. We quickly paddled away. A first rush of adrenaline. While the elephant calmed down a bit, CB proposed to have a little walk to check them out on land. This was a surprise for us as we had not expected to actually do 'landings' and walks to see the animals more closely.
Further down the river we bumped into a kudu (a big deer like animal) that had gotten stuck in the mud. The poor animal was totally exhausted. The guides tried to help it free itself with the paddles but it was no use. Moreover the animal was actually trying to attack them. We continued on with the knowledge that it was only a matter of time before lions or crocodiles would find him. But that's life in the bush.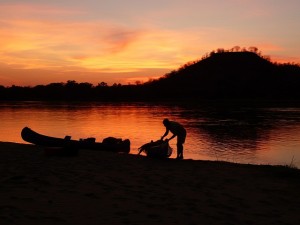 We set up camp for the night on an island in the river and watched all the animals come down to the river around dusk to drink. That evening and night we could hear lions roar just a couple of hundred meters away. While enjoying a glass (well actually a cup) of wine, the guide treated us to some nice 'real life' stories about 'man eaters'; old lions that can no longer catch normal prey and would come for easy prey: humans. The one thing we both remembered the next day was that if there are old and hungry lionesses around you better don't have your period… Nothing we needed to be worried about.
The fact that there was lions around made it all even more exciting but from the safety of our canoe on the water we felt pretty confident. We got a little less confident when during one of the morning walks, CB pointed out a 'very fresh' leopard print. When we took a break for breakfast after the first 2hrs on the river we noticed that a crocodile was
stalking us. It kept popping up at both sides of our breakfast spot. Only about 1km away from where we had breakfast all of a sudden the guide heard a baboon alarm call, THE sign of the presence of a large predator (read a big cat). 'Let's go check it out' he said and we quickly navigated to the source of the alarm calls. We were hoping to be able to spot something from the canoe when he steered the canoe to the bank and got out. Malcolm and I looked at each other and thought exactly the same thing: "Are we really going to get out while there is potentially a lion or a leopard right there?". But sure we
got out and after only 2 meter on land both guides said "Lion, probably 2 or 3" and pointed to the bush about 40 meters further. We didn't see anything… They started to check out what the escape routes would be…not for us but for the lions. Once they were clear on that they motioned that we should be quiet and follow them. When we were at about 30m of the bush we could indeed see a dark spot that with some imagination could be considered a lion. Only when we gotten to about 20m from the bush and we saw the shadow move and breath were we convinced that there was really a lion in the bush. Unfortunately we could not get a clear picture, so CB took us a couple of meters further. We were now less than 20 meters away from the great predator and could see her clearly staring at us. We were on barefoot and the only weapon we had was two paddles.
Afterwards we discussed that although we were hesitant to get out of the canoe and we were definitely nervous at first and excited the whole time, we did not feel unsafe and were not afraid. This has nothing to do with being a 'tough guy' or a 'real man'. Rather it was a proof of the confidence we had in our guides. Two guys we had only met the day before. Also the fact that we knew exactly what to do should the lion attack was helpful. The rule is "stick together and stand your ground". After a 'mock charge' the lion will stop just a couple of meters short. That is when you slowly start retreating while you continue to look at the lion. If you start running this triggers the instinct of the lion to chase even when they are not hungry.
The funny thing was that while we were so close to this lioness, I was actually more occupied with my feet that were getting scorched from the burning hot sand. I was wishing that I still had the protective layer of callus from my karate days and was basically dancing on my feet as motionless as I could, to not provoke Mrs lion in the bush. After 10 minutes observing the lion from close we slowly got back to the canoe. This little walk was completely the opposite of a traditional 'game walk' that can be booked in most parks. A guide once explained me that those walks are always done in open areas (we were in the middle of the bushes), where no predators were expected to be around (we knew for sure there was a lion) and the guides are armed (no gun for us, only two canoe paddles).
We had hardly been able to get over the excitement when CB saw two more lions sitting in a low tree near the bank of the river. Unfortunately as soon as we got closer one of them jumped with a great leap back in the bushes. The other one checked us out briefly and then also took off.
And our luck was not over yet. Just before lunch we went past a small channel where there was a pack of wild dogs drinking. Now that was a real lucky shot! Chances of seeing wild dogs in the wild are really really slim. Actually together with the black rhino it was about the only of the large 'safari animals' in Africa that I had not seen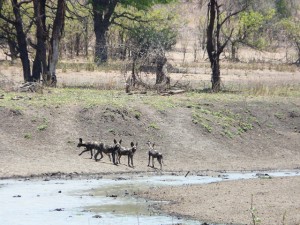 yet. They were really cool to look at and seem similar to regular dogs. They are however some of the most ferocious killers around, always hunting in groups and tearing their prey apart while it is still alive. We had lunch a bit further on and somehow I did not manage to do a siesta like the day before…
The afternoon was bit more relaxed with still a lot of antelopes and elephants and other game spotted. Just before we got to the next camp we got in an area with a lot of hippos again and there our guide nearly gave us a heart attack when he tried to get through a small channel with a lot of hippos on the banks. Once we approached, they started to hop in the water (their safety remember) and we saw that there were three very young hippos there. Not good!!! Moreover, apparently we were at the wrong side of the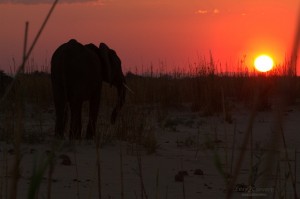 channel. In the water hippos always flee to deeper water and we were blocking them. An adult hippo started a charge! Our guides quickly steered to the other side and CB stood up in his canoe waving his paddle at the hippo that was charging and somehow it backed down. We paddled at full force to the other side, fighting against the stream that was pushing us back to the hippos and stayed as close to the bank as possible. We gave the hippos the time to swim away before continuing to our camp for the night. The island that CB had picked was however occupied by a herd of elephants. We ended up putting up our tents while elephants were watching us from 50m away.
The next morning, the guide warned us that there would be a lot of hippos on our last hours on the river and that we should be on the look out at all time . He was not exaggerating at all. We only just started paddling or hippos started to pop up all around us. A number of them got angry again and st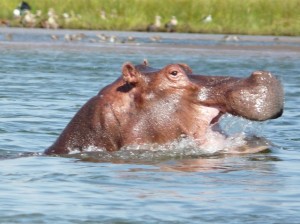 arted swimming to our canoes. We were paddling at full force in all directions and still seemed to find hippos on or way wherever we went. At a certain moment we were getting away from a hippo that was coming straight for us under water (you can see the ripple in the water getting closer very fast) while another one jumped out of the water only 5m away on the other side. We jumped up in our canoe and quickly paddled yet another direction. After an hour of that we were pretty exhausted and started seeing crocodiles and hippos everywhere. Often it wasn't a croc or hippo but a 'logodile' (a piece of wood) or a 'rockopotamus'. It was good to have some breaks in between to go on land and check out the game there.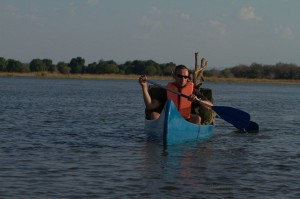 After 4 hrs we got to our final stop in good health and with all limbs still attached. In conclusion I need to agree with the travelers I quoted earlier. Definitely the best thing I did in Africa and maybe even in all my travels. And unlike my friend I would certainly do it again if I get the chance. And I think there is someone in Belgium who would very much like to join me on such a future trip.
Next up: Vic falls and Zimbabwe.
Big thanks to Malcolm for letting me use his pictures (marked with 'M 'in the name)
[ad-gallery orderby="menu_order" width="550px" height="300px" imagedesc="none"]