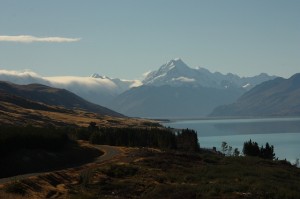 When people used to ask me what my favourite country was I always told them that I love different places for different reasons but that the most beautiful country is New Zealand. But as memories faded and new places (Himalaya, Patagonia, etc.) were visited, Kiwi land got some serious competition. But in just 3 weeks NZ managed to claim back its spot at the top hands down. The variety of different landscapes in this country is really incredible. From pristine beaches and bays, lush green hills, desert like plateaus to volcanoes, glaciers, fjords and other alpine scenery; NZ has it all on such a small surface. It seems like mother nature has combined all her forces on the land to make it look as beautiful as possible; volcanic activity on the North Island to create volcanoes and geysers; tectonics to push up mountain ranges on the South Island; the full forces of the ocean from all sides to form bays and beaches; and a couple of ice ages to build glaciers that would carve out the fjords.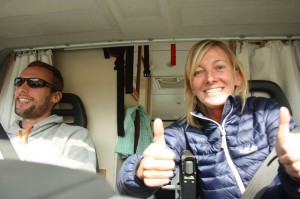 On the South Island we chose a, for us, new way of travelling: the campervan. After having tried busses and rental cars, I can now confirm that a campervan is definitely the best way to travel around NZ. Even though there are a number of rules it gives you so much more freedom to travel around. And if you can find a good deal and are at least two persons it is also the most economical way to travel. Just make sure you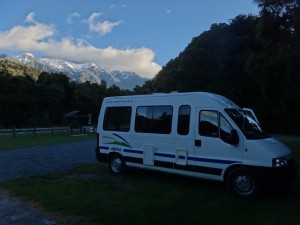 get a 'self-contained' van (with waste water tank and chemical toilet)  and you will be able to camp for free in many places in the country. And if you need some more comfort or just need to charge the batteries, there are nice 'holiday parks' and camping's all around. We had found a very nice internet deal for a small and really basic van. But when we arrived at Christchurch airport we found out that we had been upgraded to one of the biggest 2 person vans. The van included a small kitchen (instead of just a camper stove), shower, real toilet, microwave, heating; the whole thing. It looked huge compared to the small van we had ordered but it was a real lucky shot and it would prove to be a great 'house on wheels' during the next two weeks.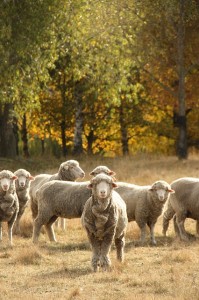 On the South Island, I really wanted to do some hiking and check out some places I had seen last time but didn't get the time to discover properly. NZ has some really good multi day hikes (or 'tramps' as Kiwi's call them). Unfortunately these are often really expensive (transport and huts) and need to be booked months in advance. Since we wanted to stay flexible and 'travel with the weather' we chose to do only 'day hikes'. These hikes which are nearly always free are a good way to keep the budget under control because the other 'activities' can really break the bank. The number of 'activities' available is sheer endless: the adrenaline kind :rafting, bungee, zorbing, river surfing, bridge swings, skydiving, etc.; the cultural kind: museums, 'historic sites', dance performances and traditional feasts or the nature/eco kind: kiwi spotting walks, guided volcano and thermal activity tours,… All of them have one thing in common: they are not cheap. Compared to 7 years ago prices seem to have risen by 25 to 30 %. Add to this the fact that the NZ dollar has become stronger and the Euro went down and I'm glad that I 'invested' in a lot of these activities last time.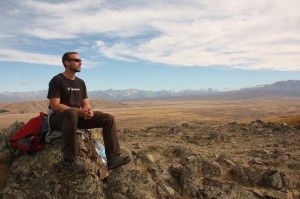 Unfortunately on the day of our arrival on the South Island a storm was moving across the island and we had to cancel our plans to go up into the mountains and instead went to the coast to check out the scenery and wildlife out there. The next day the storm had moved passed the island and we made our way to Lake Tekapo. Tekapo is a very photogenic place during the day but also during the night. In fact the place is known as one of the best places in the world for stargazing. We went for a walk that night to one of the spots that we thought would be nice for gazing at the stars. It was pretty cold and the whole town seemed deserted. Everything was closed and everybody was warmly inside. We thought we would be all alone by the lake until all of a sudden out of the pitch black, dozens of cars arrived and a small army of Chinese guys and girls started to deploy their tripods and cameras to take the same picture that we were taking. I counted at least 50 people. However there was no bus and some of them seemed to know each other but most didn't so it was not a tour group. I guess there is a Chinese guide book out there that has highlighted that spot as a 'must do'. I looked it up in our guide book but it was not mentioned, which explained why we were the only non-Chinese people around.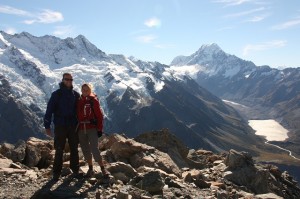 Next up was Mt. Cook national park. I had seen the mountain range around Mt Cook from far away while sitting on the bus last time and it looked very inviting. When I later saw the pictures of my friend's hike to Mueller Hut, I knew I had to come back here some time. Taking advantage of the good weather we had a great but strenuous 'Sunday morning stroll' to Mueller hut. As the conditions were good we pushed on to the summit of Mt Ollivier. Mt Ollivier was the first peak ever climbed by Sir Edmund Hillary. For the 'climbing dummies'; Hillary was the first man to climb Mt Everest together with Tenzing Norgay Sherpa.
In the late afternoon the weather started to deteriorate and a check of the forecast showed that the whole West Coast would be crap the next days so we started heading East where there was sun. But first we spent another night by the lake near Mt Cook at a gorgeous (free) camp site. But as beautiful as it was, it was still a real big disappointment for Caro. She had read that there were "plenty of Kiwi's there most nights" and had really been looking forward to spot some cute birds. It was pretty hard to break it to her that what she read probably referred to the nationality rather than the bird and definitely not to the fruit. Is this getting confusing for you too? It not that hard. The fruit we refer to in Europe when we talk about a kiwi is actually called 'kiwi fruit' here. It's a fruit that comes from China but was slightly altered by a person from New Zealand hence a 'kiwi fruit', because a 'Kiwi' is the nick name for a person with NZ nationality which in turn is derived from the national bird: the kiwi. When around Kiwi's never say kiwi to a kiwi fruit because they might get offended. A kiwi is either a nationality or a bird never a fruit…And I can assure you nobody likes to be called 'a fruit' in NZ.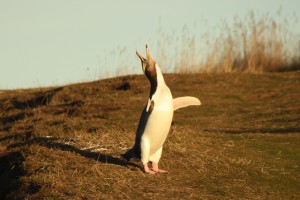 Anyway no birds for Caro and that we would need to make up for. Luckily I still had something up my sleeve. The East coast of the South Island is not only the home of whales, seals and sea lions but you can also find some cousins of those cute Antarctic penguins here. Several species are around but the most typical are the yellow eyed penguins and the small blue penguin. On the first beach we checked out near Oamaru  ("home of the steampunk"), there were no penguins around. Only a couple of seals and an obnoxious German 'wannabe' nature photographer that nearly started an argument with Caro when she told him that he should keep some distance because he was clearly annoying the seal. He just laughed and kept creeping up to the seal.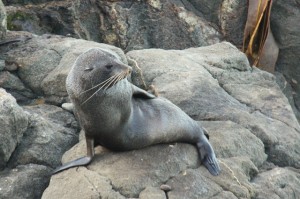 I was looking on from a distance and was hoping that the seal would give the bastard a nice bite (they really do attack and it can be nasty), when all of a sudden I noticed a penguin coming out of the water. Our great 'nature photographer' was still on his stomach trying to put his camera up the nose of the seal and completely missed 'the shot of the day'. Sensing the 'bad vibe', the penguin didn't stay around too long. Luckily we would get another chance that evening as there was another spot near our campsite in Moeraki with a lot of yellow eyed penguins. Surely that night we were in for a treat: dozens of penguins getting in and out of the water in the hours before sunset. Caro was happy as a little kid and I nearly had to drag her away from the funny little creatures when the sun had set.
[ad-gallery orderby="menu_order" width="550px" height="300px" imagedesc="none"]