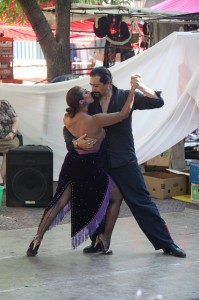 We are not 'city people', give us mountains, oceans, deserts, bush, savannah, etc. and we are happy. After a couple of days in most cities we get restless and start looking for the exit. There are only a very limited number of cities we really love but we just got to add one to the list. Even though we only spent 3 days there we really got charmed by Buenos Aires (BA). The big avenues and boulevards lined with trees and beautiful buildings , cafés everywhere, little markets, the covered shopping galleries…You would be forgiven if you thought you were in Paris. They even have their own version of the famous Paris cemeteries . But Buenos Aires is much more than just a copy of Paris. Actually due to the large immigration (especially Spanish and Italian) in the 19th century, it is a very nice cocktail of all kind of European influences spiced up with some truly local elements.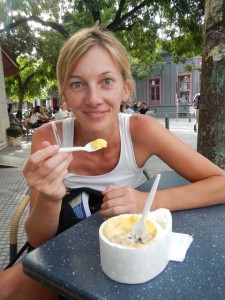 Argentina as a whole and BA in particular is known for its great food. Especially for the 'carnivores' this is heaven on earth. On nearly every block, there is a parrilla (barbeque) place with endless lists of meat dishes that usually come in enormous portions and are served with great local wines. For us the ice cream was definitely a culinary highlight also. There are 'artisanal ' ice cream shops all around. And there too the portions are huge. They are not sold by the scoop but rather by the litre or kilogram.  While we got our daily 1/4 kg for the two of us, we saw the Porteños (inhabitants of BA) easily take on the same portion on their own.
Weather wise BA was a relief. After the rain and very oppressive humid heat of the subtropical region, BA was sunny, around 30 degrees with a nice sea breeze.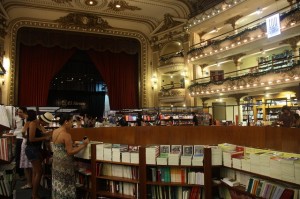 Another great thing about this city is the way they like their books. If have never seen a city with that many bookshops . One of the bookshops in a former theatre is definitely the most beautiful bookshop I ever seen. Books are by far my favourite shopping target and having  just spent 3 months in Africa ( a real desert when it comes to books),  I really had to restrain myself to not go on a shopping spree, that would make my already overloaded luggage even more heavy.
Music is also a big thing in this city. For some reason one of my favourite bands 'The Ramones' seems to be very popular out here. Although the band split up in the early nineties and half the members have passed away by now, we heard their music everywhere we went (even in supermarkets) and I saw t-shirts all over the place. But of course apart from punk rock there's another type of music that is very intimately tied to this city, mainly known because of the dance that is connected to it:  Tango.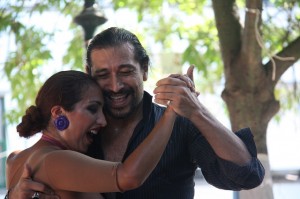 There are tango performances all over town. Unfortunately most of these performances are real 'tourist traps'. They charge about 100 euro for a very mediocre dinner plus tango. Even though the performances in some places are very high quality, a lot of people leave rather disappointed. The good news is that you can see tango for 'free' (donation that is) out on the streets. We went to see a number of performances during the Sunday market in San Telmo and we were not disappointed! As mayyou know, I'm not the dancer type and I can't understand why a sane person would want to watch all these dance competitions on TV. But what a beautiful dance the Tango is!
Born in the streets of BA but not accepted due to its 'vulgarity', the dance was perfected in the capitals of Europe before it returned to Argentina in its current form in the beginning of the 20th century. It's hard to explain but there's something about this dance that makes the dancers look very attractive. Passion and sensuality are just dripping off it. The way the partners look at each other, the way they very delicately hold hands or how the woman desperately seems to hold off the man while pulling him closer at the same time. On the other hand at times it's almost acrobatics when they are swinging their legs around each other or when they shuffle across the dance floor at great speed with their feet seemingly interlocked.
As I said I'm not a dancer but I actually regret that we didn't manage squeeze in  a basic lesson of Tango. But that gives us a reason to come back here in the future. Another thing that I wanted to do but that didn't work out this time, was attending a football game. Argentina, just like its neighbour Brazil, is totally football crazy. BA actually has the most professional football teams of any city in the world. We walked past the stadium of the famous Boca Juniors. The club where it  all started for Diego Maradona. The man who almost 'single handedly' (got it?) helped Argentina win its last world cup in 1986, is still considered a 'demi God' out here. Lionel Messi the 'new Maradona' might be very celebrated out in Europe but in order to make it to the same level as Diego he will need to help his country win the big trophy first.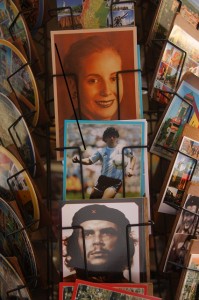 Apart from Maradonna there is two other persons in what I like to call the 'Argentinian Holy Trinity': Ernesto 'Che' Guevara  and Eva 'Evita' Perón.  The latter most people probably know best from the movie starring Madonna or the song 'Don't cry for me Argentina'. She was the wife/adviser/minister of Juan Perón the president of Argentina in the forties and fifties. Her leftist policy and support of the poorest made her enormously popular with most of her fellow countrymen. The fact that the policy of Evita and her husband was at times rather authoritarian and inspired by European Fascism and  the fact that they helped Nazi criminals escape in Argentina are subjects that you are not supposed to mention here. Because even today more than 60 years after her early death, she is still enormously popular. The current 'Presidenta' Cristina Kirchner has actually sometimes been compared to Evita because of her support for the poorest but also because of her sometimes 'authoritarian tendencies'. We went to visit the grave of Evita and saw that the crypt next to hers is currently for sale. If anyone is interested, the asking price for the crypt is 200,000 USD.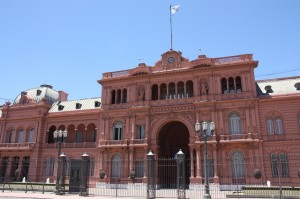 So yes BA really is a great city. It's a pity that it is getting so expensive. Actually the whole of Argentina has gotten expensive to travel. People that had been here 3 to 5 years ago, told us that Argentina was 'cheap'. I can assure you all, it is no longer the case. I based my first budget estimates for the country on a guidebook that was 5 years old. When a couple of months ago I got the more recent version from early 2012, I was surprised to see that almost all prices had tripled. Today the country is just as expensive as Brazil and even Europe. There definitely is a serious problem with inflation. Last year's inflation rate was between 15% (official estimate) and 25% (independent estimate). Actually it made me understand better the point of view of the European Central Bank ( and countries like Germany and Netherlands) in the 'euro crisis'. These actors fear that increased government spending will cause inflation. In Europe we are obviously concentrating too much on austerity and are in fact choking our own economies. In Argentina on the other hand they are going to the other extreme. Unabated government spending, subsidizing and increasing of salaries has jacked up the prices at a dazzling speed. Some people even think that another crash (like the one  they had in 2001) and devaluation of the currency is coming on. To be continued…
Before heading south to Patagonia and Ushuaia we wanted to soak up some more sun and more importantly catch some more waves, so we decided to spend a week in Uruguay. At this time of year the beaches of Uruguay are actually invaded by holiday making Argentinians so it's hard to see many differences between both countries.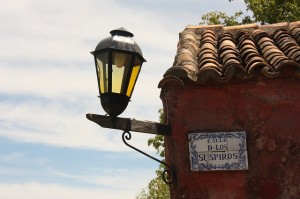 Our first stop was at the Portuguese colonial town 'Colonia del Sacramento'. A nicely renovated town from the 17th century. Not as spectacular as towns like Paraty, Antigua or San Cristobal but definitely worth a visit. Convenient also as the ferry from BA to Uruguay arrives there.
The next day we wanted to take an early bus to the beaches at the other side of the country but when we turned up half an hour 'early' at the bus station or bus had already left. There is an hour time difference between Argentina and Uruguay and we had somehow missed that piece of information. The bus company staff was obviously used to that happening and very kindly booked us on the next bus at no extra cost.
The next days were spent in and around the beach town of La Paloma. It was supposed to be one of the calmest towns around. However when we arrived we noticed a huge (temporary) camping ground (like we have them for festivals in Europe) full of youngsters. Our hostel was full of young Argentinian girls dragging enormous suitcases with them for one week of holidays. And we saw the same ritual as we had noticed in BA. All of them would go to sleep around 7pm and get up when we were ready to go to sleep around midnight. Then they would start cooking dinner and go out around 2 or 3 am. It's totally 'not done' to arrive at a nightclub before 3am around here.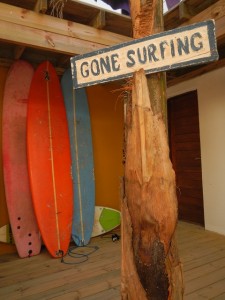 The waves and surfing were great but there was something strange going on at the beach. When we arrived before noon the place would be completely packed but about an hour the beach was completely abandoned and people would only come back around 5pm. Apparently people here are very aware about the dangers of the sun and as a result they desert the beaches en masse during the hours the sun is most intense.
To end our trip to Uruguay and to catch our flight to Tierra Del Fuego/Ushuaia we went to the capital Montevideo. Not really the most happening city of South America at this time of the year as everybody is at the beaches. The place actually looks a bit like a ghost town. On our way to a restaurant we were walking through the deserted streets when all of a sudden we heard drums in the distance that were getting louder. So we tried to find the source of the noise. At some point, we saw what looked like the local aerobics club set loose from their venue.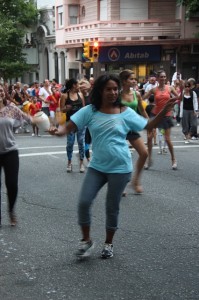 A bunch of ladies in their sport leggings and shirts moving/dancing through the streets. When we got closer we noticed that they were not wearing sport shoes but rather high heeled shoes. Turns out that they were practicing for the Carnival that will explode in the city in the next weeks.
The next day we caught a flight back to BA from where would fly all the way to the southernmost town in the world: Ushuaia.
We have caught a bit of a delay with these blogs; we have been pretty busy and have been very lucky to spend 10 days in one of the most remote (read no internet) places in the world. We'll get the blog on that out as soon as possible because we know a lot of people are very eagerly awaiting that one.
[ad-gallery orderby="menu_order" width="550px" height="300px" imagedesc="none"]