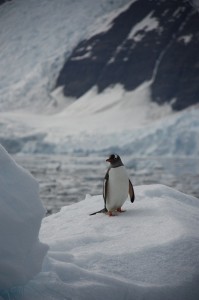 Although I try not to overdo it, I know I have been throwing some superlatives at you in previous blog posts but I think this post might be the mother of all superlatives because our trip to Antarctica really was the best thing we have ever done. Looking back at it all, you really wonder if life will ever get better than those couple of days we spent cruising through the Antarctica. Ever since I read an article of a Belgian reporter visiting Antarctica on one of the first 'tourist expeditions' many years ago, it has always been my dream to one day be able to do the same. Unfortunately these expeditions are really, really expensive.
A standard 10 day trip starts usually at around 6500 to 7000 euro. Even though everybody who has done it, swears it's worth every penny that would not fit in of our budget, especially within the budget of this trip. However I also learned that there are often 'last minute' deals to be had for ships that are about to leave and are not full. These so called 'walk on' tickets are sold at sometimes very important discounts.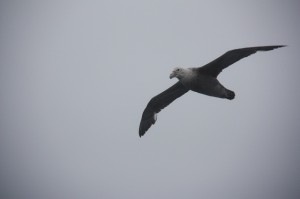 So for people who are flexible and have some time to spare and can hang around in the region this is an option. That was the case for us. However we would also be around at the best time of the year to visit Antarctica when most expeditions are fully booked up to a year in advance… One way of finding one of these trips is in the port of Ushuaia. But in my research for this trip, I found out about a couple of websites that announce last minutes, 1 or 2 weeks in advance. I had been monitoring these websites for a couple of months and had seen a couple of great deals in the early season but in December it had been really quite. However in the first weeks of January, one of the sites announced a very good deal right in the window that we had available. I'm actually not allowed to disclose the actual price (we had to sign a non-disclosure agreement) but it was too good to let it pass. Things had to go quick, the offer was very limited. So we called the bank to temporary raise our credit card limit, printed all the documents, signed and took pictures of them (we didn't have a scanner available) and sent them back to the travel agent.
Two weeks later we boarded the 'Sea adventurer' ship in the late afternoon . We got introduced to the ship and staff, did some safety drills had a welcome drink and went for our first delicious dinner while we were sailing out the beagle strait towards the notorious 'Drake passage'. This sea is universally known as the sea with the heaviest storms in the world. If it weather goes bad there it is at least 48 hours of pure hell. Given the fact I'm rather susceptible to sea sickness, I was eating my dinner with the consideration that it might be the last food I would get and keep in me for the next two days.
Our first passage turned out to be rather smooth. The Drake was very moderate. Two days long we were entertained and educated by the 'expedition crew' with marine biologists, a geologist, an ornithologist and a historian on all things Antarctica. That is if you weren't knocked out by the sea sickness pills that make you very very sleepy. But if you got too sleepy, you could always get up on the decks and check out the giant Albatrosses (wing span over 3 meter!) that were flying along with the ship.
Going back to the expedition staff, the CV/bio of a lot of them were really interesting. One had been leading expeditions in Arctic and Antarctic regions for decades, was an ultra-marathon runner, spoke fluently one of the Inuit languages and had skied across both the North and South pole. My new hero! A lot of interesting career changes also: from mechanic to expedition leader or from accountant to Antarctic kayak guide… Some of the guests/clients were no less interesting. An Israeli guy with a great love for the Arabic culture who had been combining travelling and working (in tourism) for 30 years. In his spare time for 17 years, he had also been collecting university degrees in whatever interested him. An Aussie guy that seemed to have travelled everywhere including Congo on his own! Very inspirational people.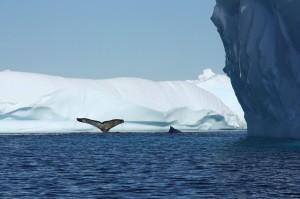 Also a lot of people on a second or third trip to Antarctica. Apparently, once it gets to you it's very hard to stay away from it.
When I'm doing a trip as a tour leader, I always try to keep the expectations as low as possible before the trip, just to be able to surprise and give people as much 'bonus' as possible. Some of the expedition staff here however lifted expectations sky high with the most amazing pictures and movies. I figured they must be very certain of their case…
Anyway at the end of the second day on the 'Drake passage', just after dinner we spotted the first land. Smith island , one of the South Shetland islands that lie just in front of the Antarctic peninsula. Just half an hour before the clouds had disappeared and we witnessed a first amazing simultaneous sunset and full moon rise. What an introduction to Antarctica. We would not visit these islands on the way in as we wanted to benefit as much as possible from a window of stable weather on the Antarctic peninsula proper. Weather is everything on these trips as it will determine whether or not you can make a landing or go cruise around with the small zodiac boats.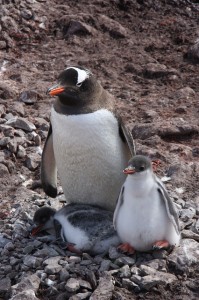 The next morning we got our wake-up call around 7 am and when I opened the curtains to have a peek at what it was like out there, I was almost knocked over by the sheer beauty of what I saw. The sun was out in a perfect blue sky, huge mountains covered in snow and enormous glaciers as far as you could see and a deep blue sea with a huge iceberg floating by. I don't think I've ever gotten dressed as fast since the 'first snow' mornings as a kid. Minutes later both of us were on the outer decks watching the incredible (really!) scenery. Not long after we spotted our first penguins, seals and even a whale in the distance. We had our breakfast as quickly as possible to be on deck again and miss as little as possible of the scenery. We had been warned that we would probably be struck by 'sensory overload' and that was definitely not exaggerated . We really did not know where to look first and wherever we looked, we were blown away by the incredible scenery. A scenery that I can't compare to anything I have seen before . It felt like the Himalayas (the best scenery I had ever seen before) multiplied by five.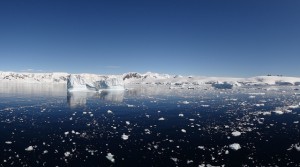 That morning we had our first 'excursion', a zodiac cruise in Cierva cove. Zodiacs are the small rubber boats that are used to make landings from the ship. From these little boats you get a whole new perspective as you are a lot closer to the water. The scenery is even more awe inspiring as the mountains and glaciers are now really towering above you. Judging from the massive icebergs that we sailed past, you really don't want to be near when such a piece calves from a glacier. In the small boats you usually get closer to the wildlife. A lot of the wildlife actually comes up to the boats to check them out. That way we got really close to the first penguins and also saw the first humpback whales from about 15 m away. Very impressive to see and hear them come up and blow away the water as they exhale. Even more impressive is when they dive down and show their massive tail fins. That's when you hear all the camera's click away.
After that first excursion, the ship repositioned to the next site. We were looking at the maps on the bridge and actually felt pretty at home in the region known as the 'Gerlache strait'. All the islands have very familiar names: Antwerp, Brabant, Liege and Gent. This part of the peninsula was 'discovered' and mapped during the famous 'Belgica' expedition. An expedition led by our compatriot 'de Gerlache'. The expedition not only mapped and named this part of Antarctica, they were also the first expedition to (unintentionally? ) overwinter in Antarctica. The ship got stuck in the pack ice at the end of summer in mid February 1898 and only managed to free itself through great efforts and a lot of luck 366 days later. Just before another and definitely fatal winter would start.
The next excursion was an actual landing on the Antarctic mainland. It was a very nice hike on a glacier, offering again the most amazing views of the bay and surrounding mountains. We could now officially add the Antarctic continent to the list of continents visited. That evening during 're cap' (the daily briefing) everyone was feeling very satisfied with the day when the expedition leader explained that it was not over yet. We would do a 'scenic cruise' through the very picturesque 'Wilhelmina bay'.

The cruise was amazing. The experiences of watching the sun set in this incredible scenery and see the colours change from gold to purple and pink was just mind blowing. And all this while sipping on some Baileys hot chocolates. Just when we thought life could never be better than this, we got company from a couple of humpback whales. Check out the movie.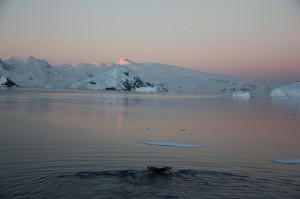 The humpbacks were feeding right next to the ship and kept following us for about an hour. The later it got the more whales started to join us. As this far south it never gets really dark at the height of summer, we could have kept watching them the whole night through. At 11pm and with still plenty of whales around we decided to call it a night because the next day our wake-up call would be at 4.30 am. We couldn't really catch sleep easily, being so excited after the amazing night. We really couldn't grasp that this was all really happening.
It was painful getting up after only about 4 hours sleep but the day started in the best possible way.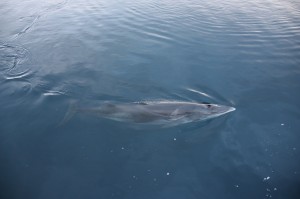 As we got on deck waiting for the boarding call we were talking to one of the crew members in the zodiac when a 'Minke whale' popped up right next to his boat. The whale then came up to the ship swimming just under the surface offering us a great view, while having a peek at us. Another nice walk to a viewpoint and our first visit to a 'Gentoo penguin' colony on land were the highlights of our early morning landing at Danko Island.
While we were sailing to our next destination the sun burned its way through the low clouds offering us once more some absolutely epic scenery. Due to an almost complete lack of wind, the reflections of the glacier covered mountains were as perfect as you can get it. Throw in a couple of huge icebergs and you'll understand that we were again completely awe struck.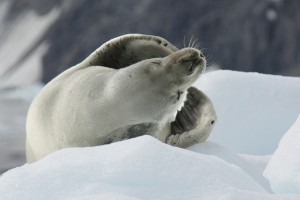 At the next stop it was time for some more zodiac cruising. A lot wildlife again: several seals (crab eater, leopard and Weddell seal) and a couple of humpback whales. One of the whales was really playing games with us popping up and staying up long enough for us to notice him before diving back down before anyone could take its picture. And while everyone was looking at one side with camera's ready for it to resurface, he popped up just behind our back, nearly giving a few people a nervous breakdown. Before getting back on board the ship, there was another nice walk up a hill overlooking a massive glacier from which cracking sounds appeared from time to time. Unfortunately we didn't see it calve off.

From there we were off to a third landing of the day at Paradise bay, so called by sailors because of its stunning location and its calm waters. This time the zodiac cruise focussed mainly on getting as close to one of the glaciers as possible. We sure got close enough…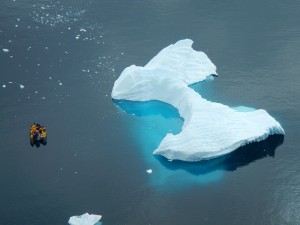 Although the guide assured us it was safe, I was really wondering if we would be able to keep everyone in the boat if the wave from an iceberg calving off, hit us. The cruise was followed by another great walk to a cliff top viewpoint. The views were again stunning and from our high vantage point we were really able to appreciate the enormous size of the icebergs both above and beneath the water. For the first time snow conditions were good enough to slide down the hill. Always great fun. It had been a great al be it very busy day and most people were pretty tired already but knowing that the weather was about to change the expedition leader had a couple more activities up his sleeve for that night: a polar plunge, a BBQ on deck and an Orca spotting cruise.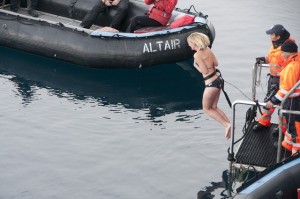 The polar plunge was something that is not really in the brochures but I had heard about and was actually looking forward to a lot. It is a dip/dive in the icy Antarctic waters. You should know that the water here is only about 0.3°C. The average survival time in the water is only about 8 minutes… So yes, a rather chilling experience it would be. Our ship was still in paradise bay in between the icebergs but the crew had cleared most of the ice from around the platform where we would jump from. Caro had been saying all day that she was not going to do it, but had a change of mind while I was leaving for the platform. And so we are proud to say that we have both swum in the Antarctic sea.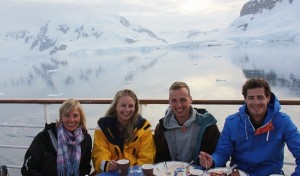 Personally I thought it felt very good. The first shock is really intense and you come up grasping for air but after you caught your breath, it feels kind of good to feel your whole body tingle so I swum quite relaxed back to the boat. Caro's experience was a bit different. She was really nervous and was in and out of the water in a couple of seconds. But of course she was also very proud of her jump and rightly so. Have a look at this movie to see the difference in experience.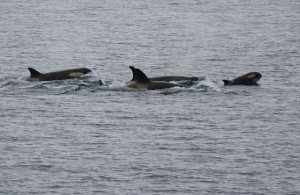 To celebrate our succesfull polar plunge we had a BBQ on the deck while the crew was looking out for the one animal which he had not seen before, the orca or killer whale. After only 20 minutes of searching we came across at least 5 different pods, in total about 40 orca. We were in for a treat again! We had no idea where to look first as Orca kept popping up all over the place. They are very curious and just come up to the ship to have a look at them. Soon we also spotted a number of Minke whales that were travelling with the Orca. And to complete the festivities a number of Humpback whales also turned up. And then something really special happened. One of the Orca went chasing after the huge Humpback and had a little nip at its tail. Some Orca species are known to attack whales but only the calves or the ill adults and definitely not a big adult like the one we had in front of us. The specialist guessed that as it concerned a young Orca, it was either a 'rite of passage' or just 'adolescent behaviour'.
Anyway the Humpback was not having any of that. He turned around and with much drama (flipping his fins violently) came at the pod of Orca and like a bowling ball rolled through the pod splitting it up in all directions. After that the Orca left us but we were once again joined by a bunch of humpbacks feeding just next to our boat. It was past 11 pm when the captain started to set sail to our destination for the next morning: the Lemaire channel also known as 'Kodak channel'.

During the 5.30 wake-up call the next morning, the expedition leader announced that as predicted the weather had deteriorated and that we would be in for 'real Antarctic conditions' today. But even in the stormy weather Antarctica is absolutely gorgeous and the Lemaire channel was breathtakingly beautiful. The next stop at Peterman Island was going to be our southernmost landing. Unfortunately the winds had shifted during breakfast and a storm system was now coming straight for us so the landing was in jeopardy. Lucky for us the weather held out for a couple more hours and we were able to land at Peterman. Apart from more great views , we got to check out a Adelie penguin colony which we had not seen before. But the real surprise was to find a young elephant seal there.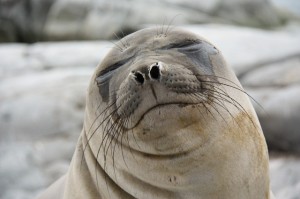 The young animal was very playful and kept coming up to us. A very unique experience. We have a great little movie of the seal coming up to play with Caroline but unfortunately we can't post it here. When you go to Antarctica you need to sign a document that you will obey the rules of IAATO. One of its rules is that you should at all time keep 5m distance from the wildlife. The exception is that if an animal comes up to you, you can stay where you are. It can touch you but you can't touch the animal. In our case the seal clearly came up to us. Anyway we don't publish the movie as it could be taken out of its context or edited and used against the expedition crew. I know a thing or two about sustainable/eco tourism and I really think that the company and crew are really concerned about the environment they work in and do everything possible to minimize our impact. It would be a real pity if our footage would be used against them. As the marine biologist said the only moment when the seal showed signs of distress was when the last people walked away.
Right after our landing at Petermann, the weather took a turn for the worst. Winds were picking up very fast and soon we were in winds of more than 160 km/h. Standing upright on deck unsheltered from the wind was nearly impossible. It was pretty clear that we would not be able to get in the zodiac boats for a landing. Soon afterwards it was confirmed that the landing was cancelled and we would continue straight to the South Shetlands were our last landings would be the next day. Although it was a pity that the landing was cancelled, it was definitely 'an experience' to feel what Antarctic weather really is like.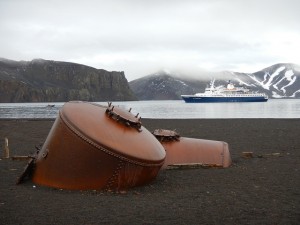 The next morning the weather had stabilized. It was still very cloudy but at least the winds had calmed down and we were able to land at 'Deception Island'. We actually sailed into the caldera of an active volcano. This volcanic island used to be home to a whaling station. The remains of the station were still visible: the buildings where they used to live, the distillation vats and the big tanks where the whale oil was stored. It was very bizarre to visit this camp and realize that until rather recently these wonderful creatures where hunted to near extinction. Luckily for most species the numbers are growing again. But some species like the gigantic Blue Whale are very slow to recover.
Our very last landing was to be in Half Moon Island. Here we would get to see a third species of penguin; the Chinstraps. Things were not looking good though when we arrived at the site. A lot of wind and high waves but the crew decided to go ahead anyway and break off operations if things got worse. This was where we would really be able to test our new waterproof pants and parka's. We got absolutely soaked trying to get to the beach. But as soon as we got on land the sun appeared, the winds calmed down and we actually had a very nice and scenic last landing with a lot of wildlife.
After that we set sail for the infamous 'Drake passage' again and this time it would not be the comfortable experience we had on the way in. The last hours in the Antarctic I spent on the deck spotting the last penguins and whales and when we were sailing past the last small islands and into open sea, I could see the waves grow by the minute. The next 2 days were pretty rough: 5 beau fort and waves over 7 meters. The ship was getting tossed in all directions and I was very aware again that I would never be a real sailor. Apparently more and more operators start to fly people into Antarctica. A pity. Apart from the environmental impacts, the Antarctic is considered by many 'Antarctic lovers' to be something you have to 'deserve'. And the Drake Passage is the price you pay. It is also a very small taste of the ordeals the early explorers had to face. Where our passage was only about 48 hours in a comfortable vessel, these guys in their small wooden ships were sometimes fighting storms for weeks without getting any closer to their goal.
The 're cap' picture slide show on the last night of our trip left me with mixed feelings. On the one hand I was immensely sad that it was over and (I know it sounds silly) that it would maybe never get this good again. On the other hand I was so glad and felt really privileged that I had been able to visit this last great wilderness and have the truly unique encounters that we had.
If you ever get the chance to visit this place, don't doubt for a second! We definitely hope to be back there some time in the future!
[ad-gallery orderby="menu_order" width="550px" height="300px" imagedesc="none"]