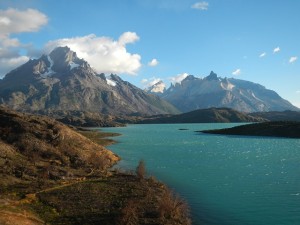 Patagonia had the very ungrateful task of welcoming us after we had been completely awe struck by Antarctica. But Patagonia is definitely up for such a challenge. This huge region with plains that stretch out far beyond the horizon, awesome mountain peaks and winds that can knock a grown man down is the stuff of legends. From Butch Cassidy and the Sundance Kid to Che Guevara on his motorcycle it has attracted adventurers, eccentrics and outcasts for centuries. These days it is tourist central during the summer months with crowds of tour groups that fly in and out to check out glaciers and mountains. But no worries the place is huge and even in the most visited regions one can still find some quite places to take it all in.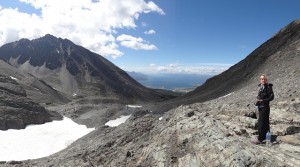 Tierra del Fuego is the southern tip of the South American continent. It is not actually part of Patagonia but we found it very similar in many ways. We spent a couple of days in the main town, Ushuaia. This is the town from which all ships to Antarctica leave and where the last preparations and briefings are done. But also for people who don't go to Antarctica it's a nice place to visit. The mountains around town are impressive and have great opportunities for hiking, climbing or skiing in winter. On the day of our departure for Antarctica we had a couple of spare hours so we put on our hiking shoes and went up one of the mountains to the Martial Glacier. From the glacier, there are great views over town and the Beagle channel through which we would be sailing a couple of hours later.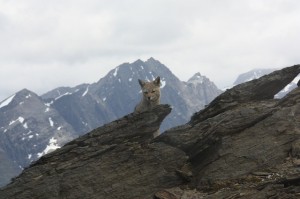 Upon our return from Antarctica we had another day in town before we would head up north. We decided to make the most of our time, so we got off the boat at 9 am and were on a bus to the National Park by 10 am and on the trail by 11 am. After being 'stuck' on a boat for 10 days we wanted to get some real exercise and decided to pick the most 'difficult' walk up the Cerro/Mt. Guanaco. After the 'wild life festival' in Antarctica we knew that we would have to adjust our expectations but we were hoping to see some Guanaco (a Lama like animal) during our walk. We didn't see any of those… but once more we were in for a treat. While we were battling the wind on the last part to the top, a huge bird was circling over the valley. When it came swooping down towards us we realized it was the legendary condor. We immediately understood why this huge, eagle like bird is so popular out here. Gracefully riding the winds and thermic without hardly clapping its wings. And it was not over yet… A couple of meters away from the summit we heard a couple of Argentines whisper about 'el Zorro'. It took me a couple of seconds to realize that they were not referring to the guy with the black mask and cape but to the animal after which he was called: the fox. And for sure there was sitting a grey fox, hardly alarmed by the hikers. What is was doing at the summit is not really clear. I guess he was not there to enjoy the amazing views over the valleys and Beagle channel. Probably he was hoping to get hold of the leftovers from pic nicking hikers.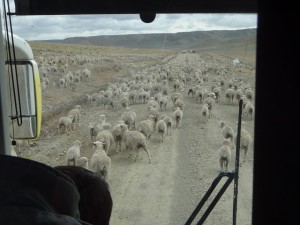 The next day we left Tierra del Fuego and crossed into Chile and Patagonia proper. Our destination was Puerto Natales, the jumping off point for the famous Torres del Paine national park. The road out of Tierra del Fuego makes you realize how remote this region is. We were driving the main 'highway' north but it looked more like a countryside back road at home. We actually got stuck for a while because there was a herd of sheep on the road. I was expecting the town of Puerto Natales to be like Ushuaia or other towns near a major 'hiking' attractions with all the big brands (North Face, etc.) having their 'outdoor gear' shop complemented by expensive restaurants and fancy 'boutique' hotels . Actually none of that was the case. Pt. Natales is a really relaxed and 'down to earth' little town. Of course there were shops to buy or rent trekking gear for Torres del Paine but for example we could not find a place selling those really handy 'ready made-add only water' trekking meals. I'd say there's a real business opportunity there. Anyway, as we wanted to do the 5 day trek independently and didn't want to rely on the really expensive meals sold in the park, we had a bit of a challenge. Moreover 3 guys (Doron, Idan and Barry) that had been with us to Antarctica asked if they could join us 'experienced' (ahum not really) hikers because they had never done such a multi day hike before. To make things even worse, we had just come off a 10 day cruise on a sailing 5 star hotel so the guys were expecting at least 'chateaubriand' on the menu… As I said quite a challenge. Caro and I went on a scouting expedition to the local supermarkets that was luckily better stocked than its Argentinian counterparts where they seem to sell only meat and tomato sauce. I tried desperately to remember what I had learned in my 'trekking cooking ' course a couple of years ago and match it with what the supermarket offered. Luckily Caro was there to fill the gaps with a lot of creativity. Although it was not quite 'chateaubriand' I think we pulled it off pretty well. All pots were empty each day and nobody went hungry.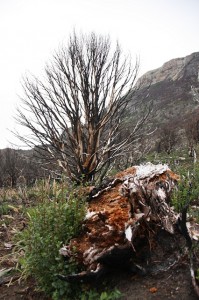 Torres del Paine has suffered a number of bush fires the last years (all caused by accidents with people cooking), leaving about a third of it completely in ashes. They try to tackle this with a very severe and patronizing lecture to all visitors before they enter the park, threatening with huge fines and even prison for causing a bush fire. Even though I didn't like the presentation style a bit, I understand that this message must be communicated. Especially since this is a park where a lot of inexperienced backpackers come to camp. However what disturbed me more is that the actual root cause of the problem is not tackled. There are simply not enough campsites or shelters where people can cook safely (sheltered from the wind). On one part of the trail, two of the three campsites had been closed for weeks (the toilet needed to be fixed and I guess it takes weeks to do that?!?), forcing everyone to stay on a small private camping that not only charged a ridiculous fee but also only had facilities to support maybe 20 % of the people staying there. There was definitely not enough places to cook ,so people just cooked outside their tents. One gust of wind could be enough to set another part of the park and with it a whole campsite with hundreds of people on fire.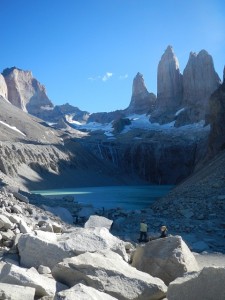 Despite the bushfires, Torres del Paine remains an absolutely magnificent park. The views on the 'W' trail are simply amazing and they change behind every corner and bend in the trail. The W trail can be walked in many different ways. We chose to take on the major attraction, the actual 'Torres' (towers) first. I had some information and a 'gut feeling' that the weather on the first days would be pretty good. However the weather is basically largely unpredictable and when we started walking it was raining, the wind was howling and the 'Torres' completely covered in clouds. Our fellow hikers started to wonder if we shouldn't change our plans. But Caro and I had decided before that we would stick to the plan. A gamble but we won. By the time we reached our camping spot at the base of the 'Torres' the sky was blue without a cloud to be seen. We didn't doubt too much and went straight up the mountain to the 'mirador' (viewing point) as soon as our tents were up. A serious climb but the scenery is really nice with the huge peaks towering over a blue lagoon. The scenery was so nice that I decided to go up once more for sunrise the next morning. I shouldn't have! It was freezing cold, the sunrise lasted only 5 minutes before the clouds took over and I would feel my early morning uphill sprint for another 8 hours as we walked to the next camp.

The next days the weather changed every half an hour from the most sunny summer day to bitter cold and rainy. However the sun definitely got the best part of the day. Strangely one major player had been really absent most of the first days: the wind. But when we were heading to our camp on day three we had to face it full on. The wind combined with the rain was 'sandblasting' all exposed skind. You can actually hear the wind 'fall' from the slopes of the mountains into the valley. It gives you a fraction of a second to brace yourself for the impact. And there was definitely impact. I had to grab a hold of Caro a couple of times to prevent her from being blown off the trail. Sometimes even I felt like I was about to become airborne. After 4 days of hiking and a sleepless night in a tent that was being pounded by the wind for hours and hours, Caro and the guys took the ferry 'shortcut' out of the park while I stuck around for one more day and walked my way out the park.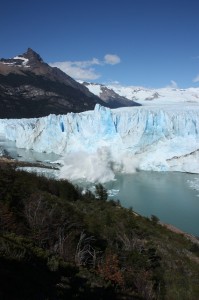 From Torres del Paine we went back into Argentina to El Calafate. This town through its airport is the gateway to Patagonia for most tourists. It is all the things I feared to find in such a place; lots of people, high prices and bad/unfriendly service. The main attraction here is the Perito Moreno glacier. The whole thing looks a bit like some kind of Disneyland with busloads of people arriving at a visitor centre with shops, restaurants and boardwalks and viewing platforms to watch the glacier. The only way to get there is by expensive 'bus tour' and the park fee is quite steep too. Knowing all this and given that we had seen so many glaciers in Antarctica that were a lot bigger and to which we had been a lot closer than 'Disneyland' would allow us, I was really doubting if we should do this. The thing that convinced us to go there was the fact that it is one of the fastest moving glaciers in the world (1-2m/day). Seeing (large) parts of the glacier breaking off is almost guaranteed. In the end we were not disappointed and we were lucky to see some major pieces fall off.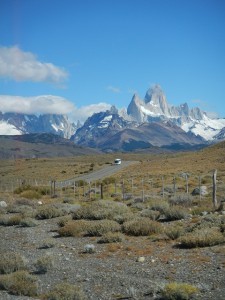 Our next destination El Chalten felt like a relief compared to El Calafate. Surrounded by awesome mountains, it is marketed as the 'trekking capital' of Argentina'. The fact that you need to walk at least a couple of hours to appreciate the park keeps away mass tourism. Moreover the region is known for its very fickle weather. Actually a great part of the mountain range is only visible about 40 days every year. I had read a travel story by a Belgian writer who had camped at the base of the famous and most elusive peak 'Cerro Torre' for a week and only got to see it for about 30 seconds just before he would need to leave the park due to lack of supplies. We foresaw 3 days and hoped to see at least a part of the range. Arriving in town we once again were obliged to follow a short lecture on the National Park. However as much as I disliked the session in Torres del Paine, so much I liked this session. Apart from similar warnings about fire safety, there was a lot of tips on what to do and when. But there was also heaps of information on wildlife. The camping in the park was also well organized with several free campsites at 'strategic places' to watch the mountains.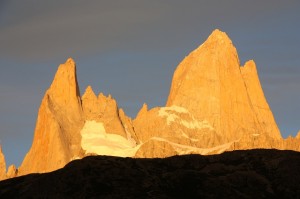 However during the lecture I was getting evermore anxious to get out on the trail because the weather was very good and the elusive Cerro Torre was almost visible. We got to our hostel dropped our backpacks and went out on the trail. Unfortunately by the time we got to the first viewpoint, the weather had completely changed and the whole range was covered in thick clouds and mist. No problem! We would be back the next day to give it another shot. Unfortunately the next morning the weather had taken a turn for the worst: it was raining and the wind was howling. We hedged our bets and decided to go to the part of the range (Mt. Fitzroy) that had the most chance of clearing out. We would have another shot at 'Cerro Torre' the next day. While we walked to our camping spot for the night the whole range remained covered in clouds. As the hours passed, I slowly but surely started to damn this place and its weather. But then all of a sudden the clouds started to disappear and Mount Fitzroy and the surrounding peaks became visible in their full glory. A very magical moment. Unfortunately it was too late to move to the next valley that same night so we decided to get up at sunrise and start to hike as soon as possible if the weather was good. After a cold night I went out to check the weather and there was not a cloud in the sky. The sunrise on Mt Fitzroy was really spectacular. After breakfast (yummy porridge) we started walking to the other valley and quietly hoped to be lucky on that side also. When we entered the valley 2 hours later it was clear that we had lost that bet. The whole range was once more covered in clouds. We hiked another hour to the lagoon and viewpoint. The weather was worsening and chances were very slim that Cerro Torre would show itself that day. Slightly disappointed but especially very tired after two and half days racing through the park we headed back to town for a hot shower, ice cream and a giant BBQ meal.

This was to be our last stop in the 'real Patagonia'. The next two days we spent driving through the immense Patagonian steppe on the famous 'Ruta 40' towards the town of Bariloche, which will be our final stop in Argentina. A couple of hours before we reached Bariloche the scenery changed abruptly. No more windswept barren plains but mountains full of pine trees and little fruit farms everywhere. We had arrived in the lake district.
[ad-gallery orderby="menu_order" width="550px" height="300px" imagedesc="none"]