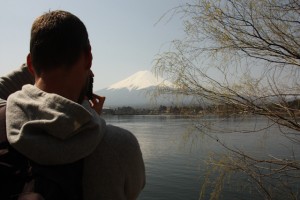 For years (12 years of Karate, 5 years of Ju-Jitsu) Japanese martial arts have been a huge part of my life. Even though injuries have prevented me from continuing for some time now, a lot of the philosophy and attitudes engrained in these martial arts will stay with me for the rest of my life. A visit to the 'mother land' of these arts was something that I had been thinking about for over 15 years. Apart from martial arts I also developed a great interest in the history of the country especially the Samurai era and the war in the Pacific. Moreover it's Asia, my favourite part of the world! Still somehow after nearly 15 years of travel, I never made it to the 'land of the rising sun'. There were three important reasons for that. All of which now prove to be very wrong. As I know that a lot of people have the same reservations, I decided to do some 'Japan myth busting' because it would be a real pity to miss out on this great destination because of these myths.
"Travel in Japan is ultra-expensive".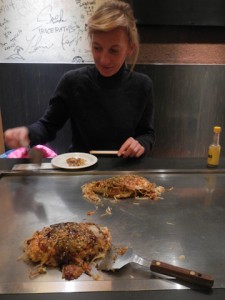 This is probably the phrase that I have heard the most in the weeks before our trip. When people think of Japan, they often think of all those rankings from a couple of years ago, putting Tokyo on top of the list of the most expensive cities in the world. Tokyo isn't cheap but we found it a lot cheaper than similar major cities like Paris, London or New York. Moreover in other Japanese cities prices are often up to 20% lower. Of course Japan is not a '20 EUR/day' budget destination like Thailand or Indonesia. We spent an average of 57 EUR per person per day not including our flights (600 EUR pp) and the intercity travel (2 week unlimited 'Japan rail pass': 309 EUR pp). This is about the same budget as we used in places like Chile or New Zealand but it is lower than for example Brazil, Australia or Patagonia. However the accommodation, food and transport in Japan are definitely much better value for money than what we were used to in all those countries. For example for the price (40 -60 EUR) of a 'room with shared facilities' in other countries, most Japanese cities offer plenty of small but comfortable, fully equipped 'business hotel' rooms. As the Japanese gastronomy is some of the finest in the world, of course you could spend a fortune on restaurants. But there are plenty of cheap eateries with very tasty food (okonomiyaki, ramen, tempura, …) that will fill you up for about 5-6 EUR. Supermarkts sell their 'fresh food' (bento, sushi, sashimi) at a 20-30 pct discount after 6 pm. But even if you want to have some more sophisticated food you don't need to break the bank: We had the best beef ever (full menu for 30 EUR) and sushi fresh from the sea (9 pieces for 23 EUR). We even heard about several 2 Michelin star restaurants in Tokyo that serve set lunch menus between 15-30 EUR.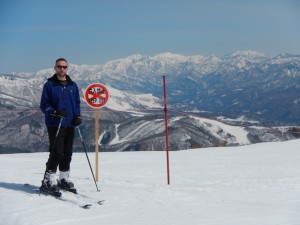 Most attractions (museums, etc.) cost between 3 and 5 EUR, which is significantly cheaper than in Europe. So what about the activities? We went skiing and our ski pass cost only 20 EUR per day. A tasty lunch on the slopes: 6 EUR. Good luck finding that in one of the European ski resorts.
The one thing that is relatively expensive is the interregional transport. However if you plan to move around a lot, the Japan Rail pass can save you quite some money. The weaker YEN and strong EUR certainly were helpful but we did not find Japan 'ultra-expensive' at all.
Our conclusion: "Travel in Japan is ultra-expensive"= NOT TRUE. I would even say 'best value for money' of all 'developed countries' we have travelled to.
"Travel in Japan is very difficult"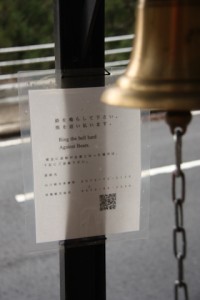 A couple of years ago I was at a presentation of someone's travels in Japan and this person kept telling us how difficult it was to travel in Japan. "Nobody understands English", "If you don't speak Japanese, you will be at the mercy of the tourist offices that will only send you to tourist traps", "You will insult people because you don't know the culture"… Of course I suspected a bit of a hidden agenda as this guy was now organizing tours in Japan himself. I would not have taken this very seriously if I hadn't heard similar stories from other people I met on the road. Even though I have some experience in traveling to not so straightforward destinations, this has long put me off from travelling to Japan. We want to travel independently and don't want to be taken from one 'attraction' to the other. So in the past months I actually took a 'crash course' in Japanese ("teach yourself Japanese in 6 weeks").
I have no idea which country these people have been to but it does not fit at all with the Japan we have seen. Travelling in Japan is easy as anything.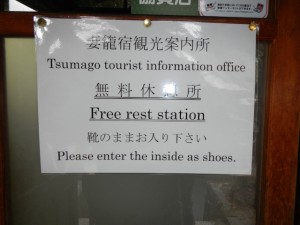 I hardly had to use my 'very limited Japanese skills'. These days a lot of people actually speak good English. In train stations, restaurants and hotels there was always staff that spoke good English even though they would insist that they spoke only 'very very little English' when you asked them. Also nearly all signs in cities and even in some of the more remote places have an English translation. Even if is sometimes a rather particular form of English.
Tourist information offices are very useful and do not send you on 'tours' to tourist traps at all. On the contrary these places will provide you with all the info (bus-bicycle maps, walking tours) and tools needed to go and discover the place on your own.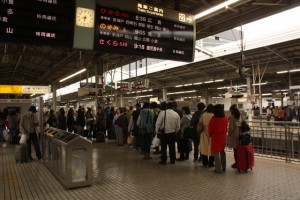 Public transport is hyper efficient, convenient and intuitively organized. For inner city transport there are always loop bus lines around town and often special routes connecting 'areas of interest' for travellers. Inter city travel is really a dream. Fast and comfortable trains (Shinkansen) or smaller local trains will take you nearly everywhere in the country and you will always be on time! Delays are quasi non existing. The average delay of Shinkansen trains is less than 30 seconds. And that includes all delays also those caused by (frequent) earthquakes and extreme winter weather. While we were waiting for our train we spent some time watching the 'Train supervisors' that make sure that all trains arrive and depart in a safe and timely manner. It is incredible to see how organized and disciplined these persons are. The way they perform their checks and sent the trains off is almost like a religious ceremony. A ceremony timed to the second.
Our conclusion: "Travel in Japan is very difficult" = NOT TRUE. Compared to a country like China travel in Japan is a walk in the 'cherry blossom' park.
"Japanese people are 'cold' and don't like foreigners"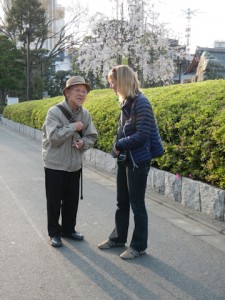 A last 'classic' is that Japanese are cold, distant and that they don't like non-Japanese people. Due to its very strict immigration laws Japan is among the most race homogenous countries in the world. And it is true that they are proud of their country and culture and will do what it takes to defend it. Obviously (as in all countries) there are a number of racist people in Japan. And yes a couple of times we noticed ladies hiding their handbags when we sat down at the table next to them. Once Caroline was rather shocked when an older lady got up to sit a couple of meter further when she took the seat next to her on a tram. That being said these were really exceptions and in general people were really nice and would spontaneously try to help whenever they could. For example when looking for a place it would suffice to pull out a map and study it for a couple of seconds or the nearest English speaker would come up to us to help point us in the right direction. People would offer to switch seats when they saw we could not sit next to each other on a train. Some may say that this is not friendliness bus just a thorough form of 'customer focus'. But that to us seems really unfair to say.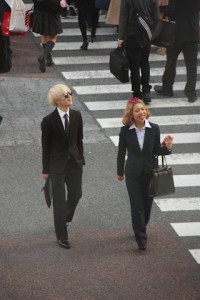 It is true that you will not often see a Japanese person show his/her feelings in public but that is part of their culture and education. It does not mean that they are cold or don't care. It is a result of the important 'respect ethic': one does not disturb strangers with his feelings. In private between good friends or within the family, the Japanese don't have any problem to show feelings and give affection. I even read that Japanese children often sleep with their parents until the age of 6 to compensate for the lack of affection that is given to them in public.
Another reason why Japanese people may seem distant is the language barrier. Even though as said, a lot of them speak good English they are not keen to speak it. Perfectionists by nature and/or nurture they feel insecure about speaking the language and prefer to remain silent although we often noticed that they would love to have a chat.
Our conclusion: "Japanese people are 'cold' and don't like foreigners"= NOT TRUE.
So with all this out of the way what keeps you from travelling to Japan?
[ad-gallery orderby="menu_order" width="550px" height="300px" imagedesc="none"]