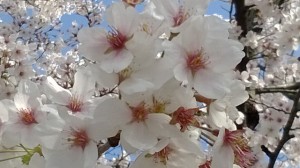 As January came to a close I was getting very anxious. I had some holidays left that I needed to use before the end of April and we had no concrete travel plans whatsoever. March- April is a bit of a difficult period to fix a destination. Not yet really spring in most of the Northern Hemisphere and rainy season in quite a number of places on the Southern Hemisphere. We kept going around in circles, so I decided to pull out our favourite 'Where to travel when' book for some guidance once more.  One picture immediately caught my attention as I opened the book to the April chapter. A picture of what seemed like 'mother nature on XTC'. An explosion of thousands of small white and pink flowers against a blue sky: the famous 'Sakura' or Japanese cherry blossoms in full bloom. Sometimes all it takes is one picture to make me want to travel somewhere…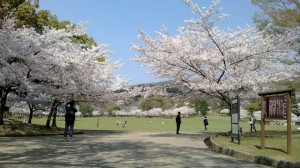 But how to time your visit to witness these magic moments and scenes? The most impressive 'full bloom' only lasts a couple of days so there is not much margin for error in the planning.  As it is a natural process depending on weather conditions, one would assume it to be hard to predict months in advance. Well no! Some internet research  (there are several websites dedicated to statistics and long term predictions on the timing of the full bloom) showed that full bloom in the region we were planning to travel (central Japan) almost consistently occurs during the first week of April. So we booked our flights for the last couple of days of March and the first two weeks of April. Because of the huge popularity and relative predictability of the event this period is absolute 'peak tourist season' and we had no choice but to book all our accommodation before arriving in the country.  A 'first' for us. To keep some flexibility and maximize our chances to catch the 'full bloom' we planned a couple of days in Kyoto followed by a one week loop around the Japan Alps.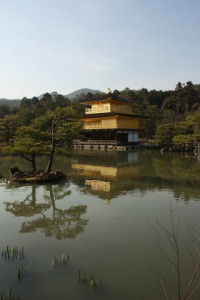 On the flight into Japan we heard that the full bloom had just started in the South of the country and still had to make it way up North. Kyoto, the first city we visited was very busy but blossoms were not there yet. Kyoto probably has the most 'Unesco World Heritage sites' of all places I have visited. You can easily spend a week hopping from one temple to another. Unfortunately due to a severe 'temple overdose' during my time in South East Asia, I have lost interest in temples a bit and basically had seen enough of Kyoto's temples after half a day. Luckily there is more to Kyoto than temples. There are some gorgeous gardens, a mystical bamboo forest and it is one of the last strongholds of Geisha culture. We hung around the Gion area (the Geisha district) one evening and were lucky enough to run into a couple of ladies on their way to an appointment. Contrary to popular belief Geisha's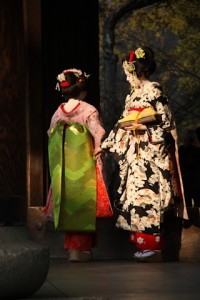 are not prostitutes. They're highly educated ladies that are able to entertain their customers with music, dance, poetry and 'intelligent conversation'. These days an evening with a Geisha is something only the elite Japanese can afford. Their numbers are dwindling but there is still a small community left that lives according to this ancient tradition. While the tour groups were hanging around the main street, cameras ready, we were walking in the small side streets and got to see a couple of ladies come out of their houses. All though I personally don't find all the make-up and the hairdo very attractive, I must admit that they all looked very beautiful. And the elegance and gracefulness with which they move is mesmerizing…even when chased by 20+ tourists…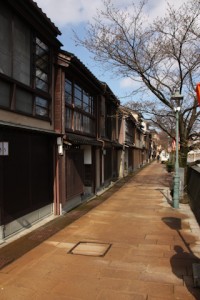 Apart from the cherry blossoms there was one other thing that I missed in Kyoto: the traditional neighbourhoods with the wooden facades that I knew from Japanese movies. As I understood that Kyoto is a bit the Bruges of Japan, I was expecting a lot of that but did not find it. Not to worry because that was the strong point of the next city we visited: Kanazawa. We spent a very rainy afternoon visiting a former Geisha and Samurai neighbourhood where a couple of the old houses were even open to the public and had small exhibitions on typical Geisha and Samurai attributes. In a small display I found a thank you note from a lord to his Samurai that had killed an enemy. It basically thanked the samurai for killing a high ranked adversary and concluded the note with: "We are very happy you brought us his head".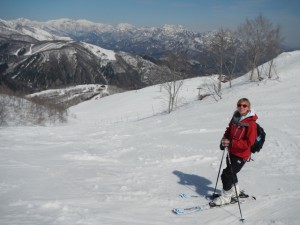 From Kanazawa we moved into the Japan Alps. Yes there are mountains in Japan, a lot of them actually. And there is also skiing! As a matter of fact, each winter, Japan is invaded by people from all over Asia and Australia that want to get on the slopes. As hiking was not an option yet, we decided to get our fix of mountain fun by testing the Olympic resort of Hakuba for a couple of days. The timing was nearly perfect. The season was about to end so there was not a lot of people around but a late bout of 'winter' had left a lot of new snow only a week earlier.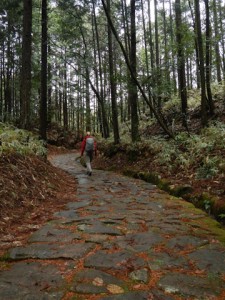 From the slopes of the Japan we moved down to the Kiso valley to get another glimpse of traditional Japan. We walked a day on the 'Nakasendo post trail' between the beautifully preserved villages of Magome and Tsumago. The Nakasendo used to be a vital part of the communication network of the country and dates back to the 8th century .  We spent the night in a Ryokan (a traditional 'Japanese Inn') in one of the old 'station' towns. A really interesting experience:  sleeping on tatami mats, a traditional dinner with some very special ingredients.  Our hosts only spoke Japanese but somehow that was not an issue at all.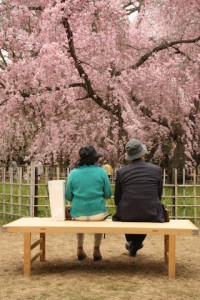 During the train ride into the Kiso valley we noticed that in several places the cherry blossoms had started to appear. Not yet in full force but it would not take long. When we talked to some travellers who had come from the Kyoto region they told us that the 'full bloom' had been declared a couple of days earlier and that it would not take more than 1 or 2 days before the blossoms would be blown away. An experienced 'Hanami' (flower watching) devotee explained to us that a couple of days after full bloom sometimes all it takes is one windy day to cause a 'Hanafubuki' (a flower blizzard)  that sweeps all the trees clean of their blossoms. We had originally planned to go back to Kyoto a couple of days later but fearing that we would miss the spectacle we changed plans. We hopped on an early train the next day, dropped our luggage at the magnificent Kyoto train station and went into town.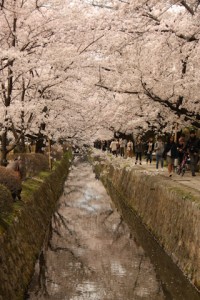 It was a weekend day and even though it was a pretty chilly, this time the masses were out. It had taken us some time and effort to catch them but we soon found what all the Sakura fuss is about. Millions of blossoms all over town and in the hills around, a truly magnificent spectacle. The most impressive are probably the 'Sakura tunnels', formed by trees on either side of a street or canal with upper branches that nearly touch. The white and soft pink canopies give the impression to be walking around in the ceremonial hall of a fairy tale palace.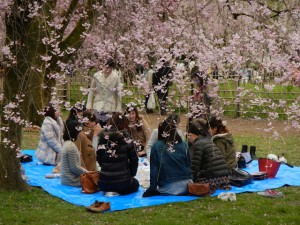 For the Japanese the Sakura festival is the celebration of the end of winter and the blossoms are symbolic for new life. It is often said that if you want to see Japanese at their most uninhibited, you need to visit a park during the Sakura festivals. And we must say that the groups of happy, smiling pick nicking people stand in stark contrast to the suit and tie or trench coat people that one usually meets in Japan. I guess for Japanese standards you could even call them exuberant.  The next week we would be lucky enough to see many more cherry blossom beauty in other places such as Osaka, Nara, Myajima and Hiroshima.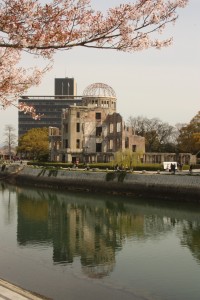 This last town is of course better known for a lot less romantic reasons. On august 6th 1945 the first nuclear bomb exploded in mid air about 600m above the town. The firestorm, shockwave and radio-active fallout that followed would in the end kill up to 150.000 people and destroy everything in a 2km radius around the target. A similar massacre would happen a couple of days later in the town of Nagasaki. The official reason for using the bombs was "to put a quick end to a cruel war against a nation that would continue to fight until the bitter end". From my courses in international politics I remembered that the real reason was probably very different. The bombs were not the last bombs of WW II but rather the first (and luckily last) bombs of the Cold War between the 'West' and the Soviet Union. By summer 1945 Nazi Germany had been defeated. However during the end of the war in Europe and the ensuing peace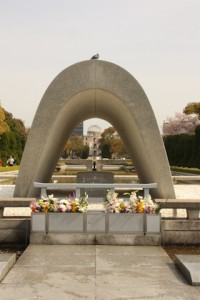 conferences, the tension between Stalin and the 'West'  had become very obvious. The US badly wanted to show their new weapon and its impact to intimidate their new enemy in the Soviet Union. The Japanese cities of Hiroshima and Nagasaki were to be collateral damage. The fact that it would force the Japanese to surrender was just 'nice to have' as they were already on the brink of surrendering.  This is all proven very clearly in the secret documents from the US war archives that have now been disclosed and can be consulted in the Atomic bomb museum in Hiroshima. These documents contained some hallucinating and horrifying paragraphs. One document mentioned that the site for the bombing had to be " a military plant surrounded by a large number of civilian workers" and  the attack had to be "without prior warning for maximum effect". In another document, the US secretary of war expressed his concern that "the ongoing intensive conventional (and fire) bombing campaigns on Japanese cities risked to put in jeopardy the display of the impact of the new weapon". In yet another disclosed document the use of the atomic weapon on Japan was urged "to justify the huge budgets that had been used in the development of the weapon". Very sobering literature! And it really makes you think about who are the 'good guys ' and 'bad guys'. In fact it is probably like in those Japanese movies that start with 'good guys' and 'bad guys' and end with only 'bad guys' with different degrees of 'badness'.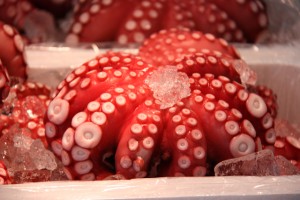 The last days of our trip we spent in and around Tokyo. This time we arrived just too late for the big Sakura party although an important group of 'diehard' fans were still in the parks doing their pick nicks among the fallen cherry blossom leaves. Not being 'big city' fans we were a bit afraid of staying a couple of days in Tokyo but it turned out to be a really nice time. Great weather and a all the parks  made sure that we had the opportunity to finally relax a bit after 16 days of racing around the country like madmen in search of cherry blossoms. We did take the time to visit the early morning fish market; something we can definitely recommend. But beware that after you had a sushi breakfast there, eating sushi will never be the same again!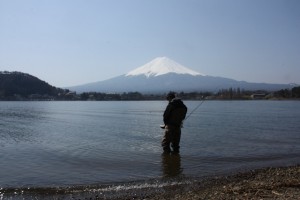 A last highlight was a visit to the iconic Mt Fuji about 2 hours outside of Tokyo. We were lucky with the weather and could admire the beauty of the volcano during a nice hike around the lakes. For the classic 'Sakura and Mt Fuji' picture we were just a couple of days too early but by now we had about 5000 pictures of cherry blossoms so we did not feel too sad about that.