It's one of the phrases I've heard the most since my arrival on Belgian soil. It's a really tough request because where do I start…Those 8 months on the road have passed in what seemed like a blink of an eye. But on the other hand we have seen and done so much that our first week in Africa in October seems ages ago. We would like to use this last post of this trip to look back at some of the many highs of the past 8 months and talk a bit about a number of things that have really struck us.
"What was the best thing you've done?"
Another of the 'frequently asked questions' since our return. It may seem a bit more straightforward than "tell us about your trip" but it's also a really tough question. It is really hard to compare all those things we've seen and done. All of them were great in their own way but it was the combination of all these experiences that made this trip 'a trip never to forget'. However as we all like to put things in little lists we tried to make a list of the 10 greatest experiences on this trip. It took a lot of deliberating and a couple of highlights fell just outside the top ten: Enjoying great food and wines in Thailand, Marquesas, Argentina and Chile. Diving the SS Coolidge wreck and seeing the amazing land divers in Vanuatu, Living in an 'island paradise in Huahine in Polynesia, Seeing all African 'big cats' in two days in Masai Mara Kenia, 'Discovering' a great destination in Malawi, Surfing our lives away in Mozambique, Brazil and Uruguay, Enjoying 8 months of almost constant sunny weather…
But without further ado here are the 10 experiences that struck us the most:
Nr 10: Seeing (and feeling!) the sun rise on the summit of Kilimanjaro.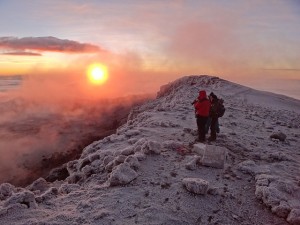 Climbing Kilimanjaro is definitely not the best trekking we have done. As a matter of fact I could name about a dozen of treks that we have enjoyed more than Kilimanjaro. The final ascent, 6 hours in the complete dark and freezing cold (-10° and that's without taking into account the wind chill) was 'not fun at all' and a real test of our perseverance. But reaching the summit that was completely covered in fresh snow and seeing that big red ball rise above the crater, painting everything pink and orange did make up for some of the suffering of the previous hours. Read more here.
Nr 9: Celebrating an African wedding.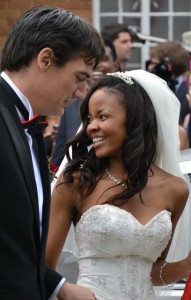 In the original plan there was no Africa chapter foreseen in the trip but then our buddy Tom announced he would get married with his South African girl Nolo in South Africa and he invited a bunch of us to come over. And there you have it my 'Africa plans' were born. The two days of the wedding would turn out to be some of the coolest of the trip. It was the combination of the traditional and 'modern/Western/Belgian' wedding ceremonies that made the experience so unique. Truly multiculturalism at its best! Read more here.
Nr 8: Meeting people on the road.
Travelling is so much more than just 'sightseeing'. The kindness of complete strangers is one of the things that keeps surprising me every time I hit the road. The different characters you come across are really awesome. In Vanuatu one day we're chatting with some guy wearing only a Nambas (traditional penis sheath) who never left his village, the next day we were discussing foreign trade with the Minister of Trade on a domestic flight. And then there are the other travellers…The travel stories we have heard on this trip gave us inspiration that could easily keep us travelling for another 100 years.
Nr 7: Hiking in some of the world's most spectacular scenery in Ushuaia, Patagonia, Chile and New Zealand.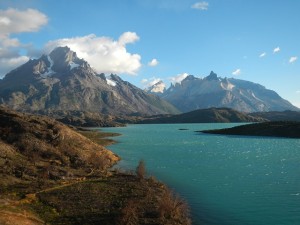 We are big hiking fans and always try to include some hiking trips in our travels or sometimes we even head out with only hiking on the agenda. For this trip I had of course also foreseen some hikes. The trips in Ushuaia NP, Torres Del Paine, El Chalten in Patagonia and the lakes region in Chile were really world class. But the price for best hiking country goes to New Zealand where we hiked on and in volcanoes, alpine passes, fjords, etc. Read more about hiking in Patagonia, Chile and New Zealand.
Nr 6: Counting down to New Year in Rio De Janeiro .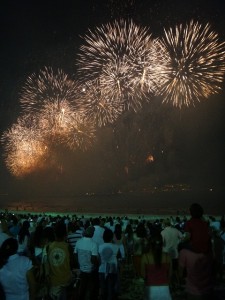 It took some puzzling to get this event to fit in the trip and we must admit we got really surprised about how busy and expensive the city gets around New Year. Regular Brazil travellers called us crazy to go over at this time. But it was so worth it. Rio must be an amazing city year round but Carnival and New Year's are probably the most exciting times to be around. Standing on Copacabana beach and hearing a couple of million (!) people count down to zero sent shivers down my spine (at 30° C) and then 'the most amazing firework ever' hadn't even started. Read more here
Nr 5: Snorkelling with whale sharks and manta rays in the Philippines and French Polynesia.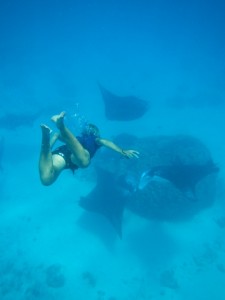 Both these giant sea creatures had been on my wish list for years but somehow I always missed them. The closest I came before was a very vague dark shadow far away that apparently was a manta ray. And I remember the whole dive crew was delighted. In Maupiti 7 giant manta's were circling just 2 meter beneath us in perfectly clear water for at least half an hour. Same story with the whale sharks. These fellows had been evading me for about 12 years until I finally got to meet some up close in the Philippines. They say that 'the chase is better than the catch' but it was really magic to finally catch a couple of them…on camera that is! Read more on our whale shark and manta ray encounters.
Nr 4: Staring in awe at the mysterious Moai statues on Easter Island.
Making a childhood dream come true. If you think they look impressive on pictures, wait till you stand in front of one them. A very strange and mysterious place in the middle of nowhere that really makes you think about what man is capable of doing…both good and bad. An 'end of the world' scenario on a small scale. Read more here.
Nr 3: Hearing, feeling and seeing a volcano erupt in Tanna, Vanuatu.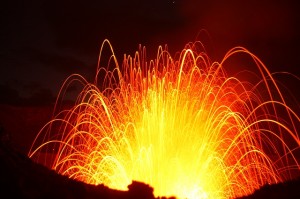 It had been a crazy week already on the Islands of Vanuatu with the 'land divers of Pentecost' and exceptional wreck diving on the SS Coolidge but we kept the best for last: a visit to the very active Mt Yasur. We had seen a couple of volcanoes on this trip already. However we had never seen any lava in the craters. Always a lot of sulphurous smoke but none of the real 'red hot stuff'. But all that changed on that evening on Mt Yasur. Read more here.
Nr 2: Stalking a lion in Mana Pools NP, Zimbabwe.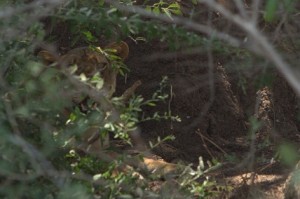 Our 3 day Canoe trip was a major success after about 3 hours on the first day with some incredible close encounters with elephants and Hippo's. So we just started day 2 with an 'everything we get today is a big bonus'. Only a couple of hours later we were quietly sneaking up to 15 m of an adult lioness. We were walking barefoot and the only 'weapons' we had were two canoe paddles. It was the biggest 'high' in an 'adrenaline packed' 3 day tip. Read more here.
Nr 1: Watching humpback whales on an 'evening cruise' in Wilhelmina Bay, Antarctica.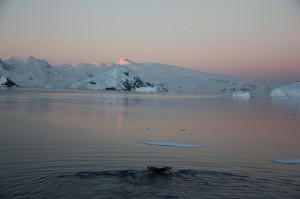 Our first day in and around the Antarctic peninsula could only be described as 'incredible'. Perfect weather, loads of wildlife, mind blowing scenery. That evening the expedition leader announced that we would make a 'scenic cruise' in one of the most beautiful bays in this part of the peninsula. While we were out there sipping on 'Bailey's hot chocolade' and enjoying the truly unearthly beauty of the bay bathed in the red-orange- pink colors of the midnight sun, we really thought life could never get better than this… That's when a couple of humpback whales popped up right next to our ship and just kept following us while catching their dinner. We could have watched them all night long but it was nearly midnight and we would get a wake-up call at 4am the next day so we said good night to the whales and went to bed. Somehow we both had trouble catching sleep after all of this… Read more about our Antarctica trip here.
"And did you learn anything during your trip?"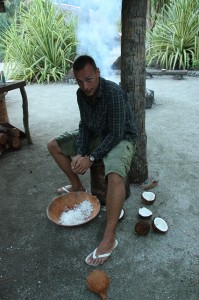 What a question! Of course we did. I could write a book about all the things we learned during the trip. From basic Portuguese language and the Brazilian variants over 'how to harvest coconuts and turn them into coconut milk' or 'the specificities of Chilean red wine' to 'the breeding cycle of the Gentoo penguin'. However a couple of things really struck us and we would really like to share with you. It's a bit our 'state of the world address'.
There is a country that we did not visit on this trip but that was present wherever we went: China. And I'm not talking about the stereotypical camera toting Chinese tourists (even though I've seen a lot more Asian and Indian people travelling than I saw 13 years ago when I started travelling). Of course we have all heard about the world power that this country is (becoming). But still we were amazed by its presence in and influence on the places we visited. I saw Chinese entrepreneurs in every country in Africa. In some places they have actually taken over parts of the country in special economic zones to be able to get natural resources out of there with as few questions asked as possible. In places like Polynesia and New Zealand the Chinese have taken over huge parts of all small local commerce and even the big chains also. In New Zealand this has happened at such speed and on such a large scale that people are getting really worried. Some shops now even advertise with labels such as "100 pct New Zealand owned". Other countries like Australia and Chile seem to be immune to the crisis that hits the other traditional 'developed economies'. This is largely due to their massive exports of natural resources to China. As a matter of fact the economy of Australia is in a lot of ways very similar to the economy of many African/Third World countries: export of raw materials (straight from the mines on a boat to China) and import of finished goods.
But it's not only China of course. Brazil is another country that is absolutely booming; We only spent two weeks there but we could see and feel that things are 'happening'. There is such an energetic vibe and drive going on in that country! The sky is the limit. So different from the negative vibe we have going on in Europe these days where it's seems you're doomed if you and doomed if you don't. It is not a surprise that both these countries are part of the BRIC countries i.e. the countries that will be the leading world economies by 2050. It's my humble opinion that it won't even take that long. We (traditional Western economies) seem to be losing terrain every day. And what is our reaction to these new players and globalisation? Instead of sticking together and embracing these new players and the new situation, we completely fold back on our traditional borders, 'values' and economies. UK is considering leaving the EU, the French president makes macho speeches about how "nobody should tell France what to do". In Belgium it's even worse as apparently 40 % of the Flemish people think all their worries will be over if they are independent and get rid of the South of Belgium. Seriously?? You think that little Flanders on its own is going to compete with the new big boys such as China and Brazil… If we continue like we do now, they are going to eat us alive with a great Belgian beer and a box of chocolates on the side. But I don't want to be doomsday prophet and I'm confident that all is not lost. In fact there is still a lot we can offer these 'new kids on the block'. Just one example is sustainability. Walking through the cities of these countries you can see that they (are starting to) have a huge problem with garbage, pollution, traffic, etc. The energy that gets wasted in these countries is really shocking (think air conditioned open air markets in a tropical climate). The 'party is still on' and nobody worries about the hangover too much just yet. But no party lasts forever and in a couple of years when the growth will slow down, they will be looking at us for our experience and knowhow on sustainability and efficiency improvements. But we better start to look a bit beyond our own borders and those of Europe and take these guys seriously because this is not something that is going to go away. We are not the centre of the world anymore!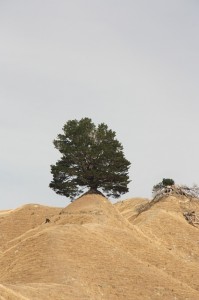 Our second main observation is that climate change is real. 'Global warming' and 'climate change' were a bit of hype in the first part of the last decade but got pushed off the agendas by the financial crisis after 2008. Somehow a lot of us (including myself) didn't seem to worry too much about it anymore. This trip really opened our eyes about climate change. In the South Pacific we went diving and snorkelling to a couple of sites that were described as some of the best in the world just 5 years ago but were now completely ruined due to rising seawater temperatures. We were in French Polynesia for one month in the middle of the 'rain season' but hardly saw a drop of rain. Same story in Southern Africa. In the Philippines in many places harvests are constantly ruined because nobody seems to be able to predict what month the typhoon season will start anymore. Whales and other migrating animals don't turn up anymore where they have been coming for as long as humans can remember because their feeding grounds have become 'aquatic wastelands'. New Zealand just had the worst drought in ages. And I guess I don't need to tell you that Europe experienced one of the worst winters and springs in history. All this seems too much coincidence for me. There must be something more going on.
"It must be so depressing to be back home"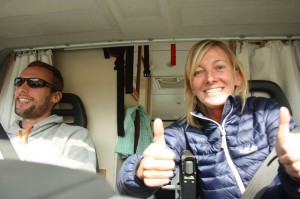 A lot of people seem to think that we must be really depressed now and that we will never be able to adapt to 'normal life', 'reality' or whatever you want to call it. On the contrary we feel really privileged that we have been able to do what we've done. 8 months travelling through some of world's most beautiful and interesting places. Not everybody gets the chance to do that. It would be a shame if the only thing you take home afterwards is a depression. Of course we look at a number of things (see previous paragraph) in a different light now and we are full of resolutions to do some things differently but that's not to say that we will no longer be able to adjust to 'normal life'.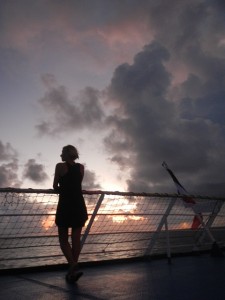 One thing that I'm really happy about is that my dream has become our dream. This world trip had been my dream and my project on which I had been working for years (ever since my last attempt was cut short in 2006). Of course Caroline was very happy to join me. But along the way I guess she also got infected by the 'long term' travel bug' because while I'm still recovering and looking back at the last 8 months, she is already looking at new adventures and new horizons to travel…
Before signing off, we would like to thank all of you who have taken the time to check out our blog. We hope you enjoyed it and are looking forward to 'entertain' you with some more 'stories from the road' in the future. Special thanks goes out to our regular 'commentators': Mama Roos, Leen, Dany, Luc, Alain, Annelies, Inneke, Saar, Malcolm, Tinne, Dirk, Jorre, Claire, Patrick, Kristien, Ann, Michael, Joris & Martine.