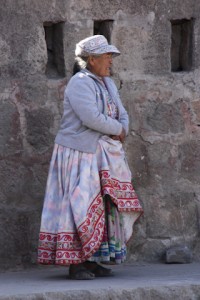 The first thing everyone thinks of when you say 'Peru' is… Machu Picchu! But when I was planning our trip, I started thinking "Let's be original and go to Peru but skip Machu Picchu". My 'original' be it slightly blasphemous  idea was quickly vetoed and sent to the garbage bin by my dearest.  In retrospect, and though I still believe one can have an excellent trip to Peru without seeing Machu Picchu, I'm very happy that I visited the site now. It wasn't a walk in the park to get there (I must have really angried some of the Inca gods with my 'original idea') but it could become a lot more difficult to visit the place in the not so distant future.
There is so much more  to see and do in Peru than the famous ruins that one could easily travel around the country for 3 months without even making it up the ridge between Machu Picchu and Wayna Picchu mountains. We really wanted to check out the mountains of the Cordillera Blanca which have some of the best treks in the Andes. But unfortunately that didn't fit into the itinerary. We also would have loved surfing at the north coast  and checking out the pre-Inca ruins there or going down into the jungle of the amazon basin searching for anaconda's and jaguars.  But we'll have to come back for all of that. This time we stuck to the 'traditional trip' from Lima to Machu Picchu and back.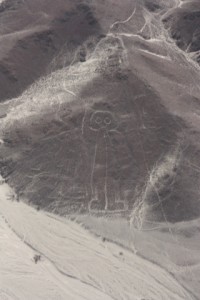 With our flight arriving one day late due to issues with the planes air-conditioning dashboard light (they don't seem to stock these in Brussels and had to be flown in?!?!), we had to skip the first stop at the oasis of Huacachina.  In the end our first stop became the dusty town of Nazca along the Pan Americana highway.
Nazca would be a town like all the others on the coast of Peru, if those aliens hadn't dropped by to draw some lines and gigantic figures in the sand…  That at least was the version according to a local guide who had clearly been reading too many conspiracy/science books like the rather entertaining "Fingerprints of the gods". Luckily the pilots that flew us over the very impressing 'Nazca lines' were a bit more skilled in their profession. Why and how(!) these lines (some of them kilometers long) and figures (up to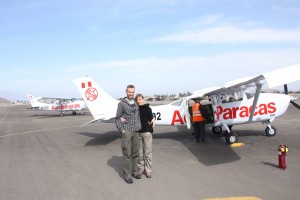 200m across) were hacked out of the desert floor, remains a mystery until this day. We took a 'pre-breakfast flight', which is very advisable! The planes are banking left and right the whole time to make sure everyone gets a fine view, and if you don't focus you stomach ends up in your throat quite easily. As a motion sickness patient (it's not as bad as it used to be when I even got sick on a 'merry-go-round'), I came prepared. The girl sitting next to Caro obviously didn't and she started looking green pretty soon after the first figure.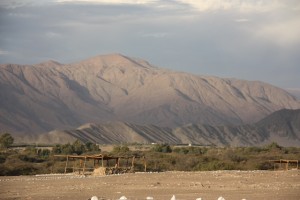 In the afternoon we visited a 'graveyard' of the pre-Inca Nazca culture. Apparently until a couple of years ago it used be an area with human bones and skulls scattered all around the desert. Today they more or less cleaned up the place and the remains have been placed in piles and put together with some well preserved mummies under shelters. Among these mummies there are also a lot of small children and even babies, most probably sacrificed in a religious rite.
There was more 'child sacrifice' evidence (of Inca times here) in the otherwise very nice and pleasant town of Arequipa. We visited the 'ice maiden' Juanita museum, which is all about a little girl that was sacrificed on top of one of the highest mountains around.  In Inca times, some children were chosen at birth to potentially become subject to human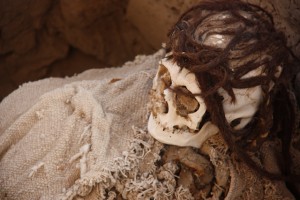 sacrifice. I wanted to say 'victim' to human sacrifice but I was told that that's not the case and it was considered a privilege and an honour to someday be sacrificed. Unlike Maya and Aztec cultures were often slaves and prisoners of war were sacrificed, in Inca culture the sacrificed persons were often part of the upper class. The children were brought up to believe that they were 'the Inca elite'. Not all of those chosen at birth did get sacrificed in the end. Again unlike Aztec culture where sacrifices were needed to bring back the sun each day, in Inca culture these were only done when the gods explicitly requested so. These request usual came in the form of earthquakes, eruptions of volcanoes or long periods of averse (dry or wet) weather.  When the request did arrive, some children from the 'chosen elite' were selected. They were first sent on very nice/festive 'school trip like' excursion to Cusco (the religious capital) before being taken up to some of the highest mountains around. Once there, they were drugged and usually killed by a blow to the head although apparently some unlucky ones were also buried alive.  The 'ice maiden' Juanita had been buried in the ice for 500 years until she came rolling down the slopes of the mountain after being shaken out of her grave by a volcanic eruption. The well preserved remains are now on display in Arequipa.

From Arequipa we made our way to the deepest (according to most recent research) canyon in the world. We wanted to get some practice for the trek to Macchu picchu and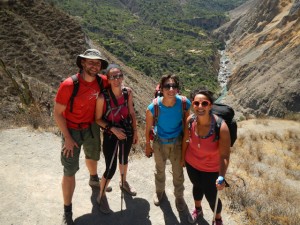 also wanted to start adjusting to the height so we signed up for a three day trek into the Colca Canyon. The walk back up and out of the canyon (covering 1100m altitude difference before breakfast) was a nice test which we passed quite easily. Though we couldn't quite keep up with our super fit and humble travel companion who had never run "a real marathon" but forgot to mention  the two "Iron Man" she had finished.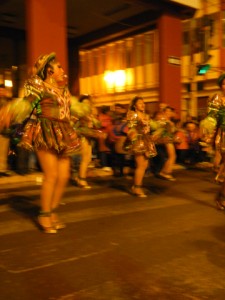 Up next was Puno in the real Peruvian 'highlands'. At 3700m you're guaranteed to suffer some altitude sickness symptoms. Welcome back breathlessness, slumbering headaches and frequent nightly toilet visits (see our Kilimanjaro post).  We got lucky and arrived on the final night of a local festival. Actually you have to be pretty unlucky not to witness some kind off festivities in the region.  These people really love their parties and there is a festival of some sort every week. We have never seen so many brass bands (ouch my headache) and crazy dressed up students in one night. Next day was Saturday and so from early morning there was more partying…of the wedding kind this time.
Most people only pass through Puno on their way to the islands of the Titicaca lake but we had a spare day so we checked out the very interesting site of the pre-Inca funeral towers of Sillustani. While we were at the site, we saw an enormous storm brewing in the background over lake Titicaca with huge and very frequent lighting strikes.

We felt lucky that we were not out there. Actually we were in the region before the rainy season was supposed to start but we had already come across quite some bad weather. Weather that was only expected a couple of months later. The locals blame it on global warming, but I started thinking that maybe I had really pissed off some one up there with my 'slightly blasphemous' plan to skip Machu Picchu.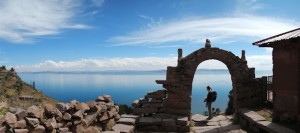 Two days later I got even more convinced when we saw another huge storm brewing on the other side of the lake just after we had just left the sun kissed island of Taquile…  At first we thought it would blow over by the time we got to the other side (it was at least another 2hrs boat ride until we got there.  But all of a sudden the wind shifted and the storm started heading our way. I noticed the skipper was evaluating his options but there was no escaping. The storm covered the whole width of the lake moving  towards us fast and we were already in the middle of the lake…Turning around was not an option. So there was only one option: straight through it. I must admit I'm not a big fan of thunderstorms and definitely not when I'm in the middle of a huge ice cold lake on a tiny little boat. The sky above was quickly becoming darker now and there were lightning strikes on the lake in front, left and right of us. I started counting seconds between lightning and thunder, keeping in mind what I had learned in the 'outdoor school': 1 second = +/-330 m in distance. First the heaviest weather was at least 5km away but all of a sudden it went very fast. Within a couple minutes time, the time between lightning and thunder went from 15 seconds to 7 seconds.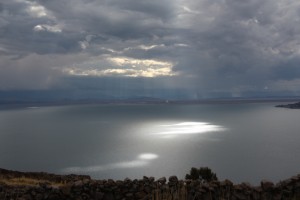 The skipper now got pretty nervous too. You could see he had been in this situation once or twice before but it was definitely not 'just another day on the job' for him either. He was regularly hanging outside his window and clearly navigating on the features/shapes  in the clouds and the gusts of wind  to get through this.  Flash! …one…two…three…BOOM!!!! Another 1000m away but before I had done the math there was another Flash and BOOOOOM!!!  There is something that I really admire about Caro, she has this philosophy:  "If I can't do anything about, I'm not going to stress about" so she was peering out the window and checking out the sound & light show quite relaxed… Me on the other hand I was not biting my nails but rather eating my whole hand and asking myself why oh why I had chosen to make the Inca gods so angry and wondering if they needed another human sacrifice or maybe even a  full boat load of them…