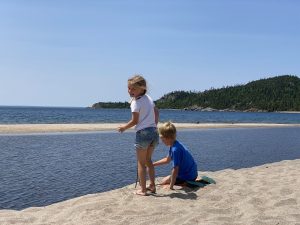 When we started planning our trip, there were only a couple of timings that were more or less fixed: friends that come visit on the one hand and visa or insurance restrictions on the other. But for Canada we had one more thing to keep in mind: the 'silly season' or 'summer madness' in the Canadian Rocky Mountains. As of early July, the National Parks (especially Banff and Jasper) are overrun by both local vacationers and international visitors. Most campsites are sold out months in advance and trails get super busy at that time. So we wanted to get to the Rocky Mountains before this started. We planned on spending about 10 days to cross from Ottawa all the way to Calgary (3500 km further) at the foot of the Rockies. That turned out to be a very tight planning as there was so much more to see and do 'enroute' than we had expected.
But before we started our Trans Canadian road trip, we re-visited the Canadian Capital, Ottawa. We spend two nights with Els (a former neighbor of ours in Gentbrugge) and her husband Denis. It was nice to sleep in a real (nice) house for a change, to learn about life in Canada (as a foreigner), the 'magical internet money' business and Denis' tour in Afghanistan with the Canadian army. And we left we list of tips for the Rocky Mountains (from Els who has worked a summer at the famous Lake Moraine). Thanks a lot Els and Denis for having us! We also did a quick tour of the town. We wanted to visit the national history museum but got a bit 'stuck' at the locks of the Rideau channel. An amazing piece of engineering of 8 consecutive locks that bridge a 24 meter height difference. Our kids could have watched boats negotiate the locks all day long.
The first day of our East-West crossing still went according to schedule, we drove through a thick haze of the wildfires all day. But in the evening the haze disappeared and the sun appeared again. We managed to drive about 500km, which we later learned would be the maximal distance that we could cover in a day on the biggest part of the Trans Canadian. The second day we already realized we would not be able to stick to the planning. A last minute visit to the 'oldest lock in North America' on the border between Canada and the USA at Sault St Marie and a stop at the local 'carglass' to fix a stone chip in our windshield meant we would not reach our destination that day.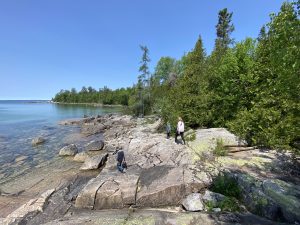 However, we did find a really beautiful sleeping spot right next to Lake Superior. After that lucky sleeping spot find, we decided to spend a bit more time in this region. The guidebooks don't really say all that much about the Lake Superior region but we really loved the rocky beaches, rivers and waterfalls that seemed to come straight from movies like 'the Revenant' or other 'fur trader'/'trapper' vs. Indians movies.
A 'quick visit' to the 'Lake Superior National Park' became a full day and we also decided to visit and stay at the Pukaskwa National Park further on the Lake Superior shore.
After those rather unplanned stops we deiced to 'step on it' and wanted to make it to the half way point (Winnipeg) in the next province in the next two days. Which meant a lot of driving hours. But also away from Lake Superior the landscapes of Ontario were gorgeous; wooded hills as far as you can see, only interrupted by a lake from time to time. On our first day we even got pretty 'wildlife lucky' with 3 moose and a wolf by the side of the road. Unfortunately, still no decent pictures as there were no opportunities to safely stop. Most of the Trans Canadian Highway in Ontario is a normal 2 lane road with limited opportunities to overtake. And some trucks here really drive like madmen. We would always see them come from a distance at great speed (usually well above the limit) and moments later they were right up our tail waiting for some opportunity to pass us. With a mastodon like that on your tail, one is not really inclined to hit the brakes to take a picture of a moose.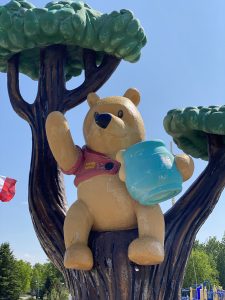 The small towns along the way try to make the drivers' life a bit more exciting with all kind of strange attractions right next to the highway. We somehow managed to miss the 9m high replica of the 5 cent piece and the 6m high goose statue but we did see the hotel in the shape of Noah's Arc and we even stopped for the Winnie the Pooh statue in the town of White River. Apparently an orphaned black bear cub that was found here in 1914 was brought back to England by a soldier where it became the inspiration for AA Milne's children books.
After these 'minor attractions', it was time to start crossing the endless plains of Manitoba. The hills and woods disappeared and made place for prairies and agriculture land as far as the eye can see. Amazing 'big skies' but very monotonous. Apart from a quick stopover in Winnipeg the most exciting thing happening, was a passing train of the Canadian Pacific Railroad. These enormous double decker trains are often several kilometers long and we counted one with 6 locomotives. The trains are still crucial for transporting the agriculture produce from the plains to the ocean. These same trains (and the settlers that rode them) also played a major role in the (near) extinction of the Bison and the resulting end of the traditional lifestyle of the First Nation people of the plains.
Once the train had passed it was back to highway's diesel roar. Luckily we got a tip about a side trip to Riding Mountain National Park that was supposed to be perfect to break the long haul travels through the prairies. The next days were filled with wildlife spotting with a number of really cool animals to tick off the list: our first Bear(cub), a herd of bison and plenty of birds that we still need to identify. We also finally were able to get some nice pictures of a couple of moose. The animals we usually don't mention are the millions of mosquitos and dozens of ticks that 'attacked' us.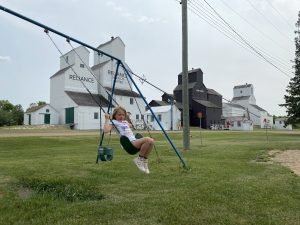 On our way back to the Trans Canadian highway we visited some impressive (and nicely) restored 'grain elevators' that were used in the past to store and transport grain. But then it was back to the road again. The next days we just blasted through Saskatchewan. There are definitely a number of cool things to see and do there but the 'Rocky Mountains were calling and we had to answer!
When we finally got to the Alberta province, we were a bit surprised that there was 'more of the same' there. Somehow in our minds Alberta was synonymous with the Rocky Mountains but in reality there is a lot more grasslands than mountains. What we did notice was all the oil pumpjacks that popped up everywhere. There is a lot of oil in Alberta and it's a major contributor to the economy and riches of the province. And it makes diesel prices very attractive for us!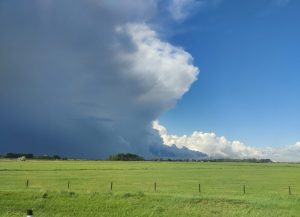 After another couple of hours of dieseling through the plains for the first time we started to see some 'storm clouds' in the distance. We read a lot about the amazing cloud formations that could be seen in these areas. So far, we had been a bit disappointed by what we had seen. But we were about to get a lot more than we wished for. In late afternoon we saw cumulus clouds that started to develop and grow in the distance. Most of them drifted away from the highway but one just stayed right in front of us and it grew bigger and bigger. It started to take really spectacular (doomsday like) proportions as we got nearer. Nothing like what we had seen before. Amazing to look at but we also noticed that the wind (which is a constant companion on the plains) started to really pick up. We saw a couple of pick-up trucks with caravans that were swaying dangerously and decided to stop and turn around. The highway that was pretty busy a bit earlier was getting deserted, only the big trucks were still there.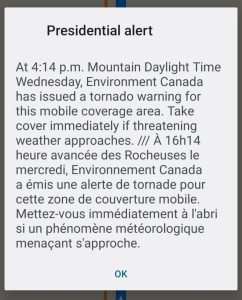 And then the first 'tornado warning' alert came up on our cell phones. After some investigation we found out we had already passed the area for which the alert was issued. But the clouds in front of us were getting darker and more threatening with every minute that passed. There was clearly another storm brewing right in front of us. And of course, moments later our cell phones were buzzing with one alert after the other. This time we were driving right into the storm. We started to see the tornado develop in front of us. It was still sunny where we were driving but it was pitch black in front of us. We decided to pull over at a turn out and went to talk to some truck drivers who were taking a break. After some deliberation they assured us that the 'eye of the storm' had already passed the highway in front of us. And with some more advice on 'what to do if we ever would get in a "real storm", they send us on our way. Somehow, we did not even get any rain but when we got to the next town, there was a lot of flooded streets. The next day, we talked to some Canadian people that had been just 5-10 km ahead of us and they told us it had been really crazy and that had never seen anything like that. Lonely planet has "watching the storm clouds on the big plains' as one of the 'Canada highlights' in one of its guidebooks. I guess we can tick that one off the list too.
So after about 12 days we finally started to get close to Calgary and the Rocky Mountains. But unfortunately the weather forecast for the mountains was looking really bad for the week to come, so we decided to go check out some more stuff that Alberta is famous for apart from oil, gas, mountains and storms…