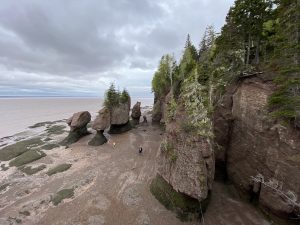 Before moving on to Québec we spent some days in the New Brunswick province. After a couple of nice sunny days of spring, the weather went back to overcast skies and nighttime temperatures dropped to near freezing again. Time to get the winter gear out once more.  Our first stop was at Hopewell Rocks a series of impressive examples of what the big tides of the Bay of Fundy are capable of. The rocks look just like islands (with plants and trees) in the sea at high tide. But at low tide they reveal all kind of erosion formations: giant mushrooms, ice cream cones or "flowerpots" (as they are officially called). In order to see the formations the visit needs to be timed right. When the tide starts to rise everybody is chased of the beach as there is nowhere to turn if you get stuck on the beach (as some tourists have found out).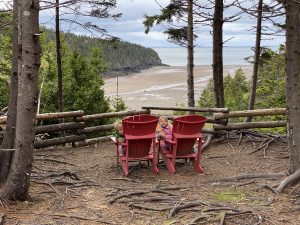 Next we paid a 'hit and run' visit to Fundy National Park and did a couple of short but beautiful hikes. Even though we really liked the park, a storm was predicted and so we hit the road when the first rain started to fall. After hours of driving in the rain, we arrived at the next National Park by the evening. It was a very cold and wet night again. But, as a great philosopher once said: "every disadvantage has an advantage". The big rains of the previous day ensured that for the first time in weeks the 'wild fire alert' went from extreme to medium. The spring has been unusually dry (what else is new?) here in Canada and so an unprecedented number of wild fires has spread all over the country. We have been lucky so far and have not been bothered (except for some hazy skies) by any of the fires yet.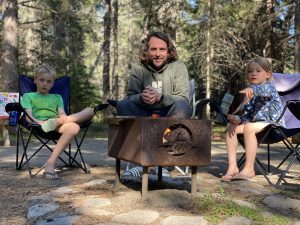 The next morning we woke up with a bright blue sky and a warm sun and within 24 hours we went from winter jackets (5°) to swimming shorts (32°). We spend the best part of the weekend warming up and then cooling down by going for a dip in the ice cold ocean. The relaxation of the 'wild fire alert' meant that we could have a camp fire for the first time since our arrival and so the first BBQ of the trip was a fact. The next day the alert would go back to extreme and all camp fires were banned again. It has stayed like that for two weeks and not a lot of rain is being expected.
After the weekend we pushed on to the Québec province and added an additional hour of time difference with Belgium. Back in 2017 (when our kids were still flying for free), we spent a couple of weeks in Québec and Ontario, visiting the major tourist attractions. So this time we would stay on the 'south shore' of the Sint Lawrence bay/river and visit some of the 'off the beaten path' attractions.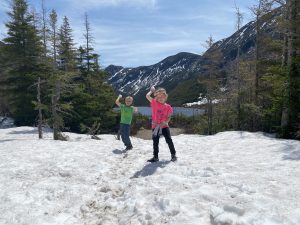 The first one, Gaspésie National Park is actually not considered off the beaten path at all by the Quebecois. They consider it the 'best park in all of Canada' but we already found out that Québec people seem to have opinions that are not always shared by the rest of Canada. That being said, we did find the park very beautiful. Upfront, we had been doubting if we wanted to make the 300 km detour. Especially since the 'best' hikes were not open (too much snow and/or Caribou mating season). Afterwards we were very happy we did visit the park. Not only for the nice hikes we did or for the snow fun for the kids, but also because we were able to see something that Leon had been searching for for 2 weeks already.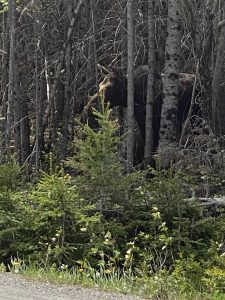 Canada is full of road signs warning for moose crossing the road. Every time he saw the sign Leon started to actively scan the woods by the side of the road but his quest had been unsuccessful so far. At the park headquarters they assured us that "there are plenty of moose around" and gave some more tips on where to spot them. On an evening walk around our camp spot, we noticed a lot of moose droppings but no moose to be found. That night, after we had put the kids in bed and while we were reading inside the van, we would peer out of the window from time to time but without luck. Just when we thought it was too dark and were about to close our 'curtains', all of a sudden we saw a big moose standing a couple of meters from our camper van. We didn't see it walk up to us at all. Just like a ghost; one moment there was nothing, the next it stood there, staring straight at us: a bit scary but really amazing. We hardly dared to move to not scare it away. I crawled over the floor to wake up Leon. It was too dark to take a photo, so the three of us just looked at the moose for a couple of minutes before it slowly disappeared into the darkness again. Although this was a big box that could be ticked for Leon, he still wants to see a bull moose with the big antlers. But we found out that this will need to wait until autumn. Moose lose their antlers every year and the adult males only get the classic big antlers back by September.
Next day, after some nice hikes (partly still in the snow) and while driving out of the park we noticed another moose by the side of the road. So now Lucie could also tick the box. Check! Still no good picture though because by the time we could stop safely to take a picture, a passing truck had chased it back in the woods.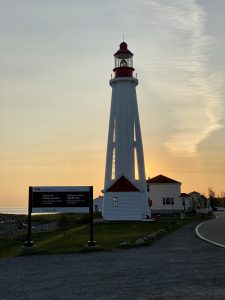 The next couple of days we drove down the beautiful south shore of the Saint Lawrence Bay, stopping from time to time at villages, lighthouses or beaches. We know of course that Quebec is a French speaking province but it is still really confusing to match the French language with the typical North American context (huge pick up-trucks, baseball caps, typical houses). A couple of times we would accidently start a conversation in English and to our surprise in the rural areas people were often completely lost in English. It must be said that at times we were also completely lost in the Quebec French. I would never have thought that we could shop for groceries at a 'dépanneur' but I do love "Tabarnak!" as a new way to express frustration.
Our last days in Quebec we spent in the 'Eastern townships'. But before checking out these towns we had to look for a swimming pool because after a couple of days of 30+° ("You are so lucky with the weather"), we really needed some cooling down.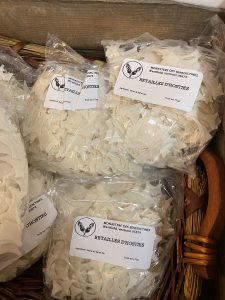 The Eastern townships (Canton de l'Est) are a couple of cute towns close to the US border where the rich and the famous from Montreal have their weekend getaways. We visited a couple of towns and stopped at an abbey where time seemed to have stood still. We wanted to listen to the Gregorian chants but after 10 minutes we had to leave as our kids (who are not familiar with such religious rituals) got very restless ("what a boring party!"). We probably did not manage expectations very well with our explanation of "religious celebrations". On our way out we bought some of the products made by the monks, but we skipped the big bags of 'hosties' ("no kids, that are not potato chips").
From there we drove on to Canadas capital Ottawa, where we would meet up with a former neighbor before starting the big trip towards Western Canada on the Trans Canadian Highway.