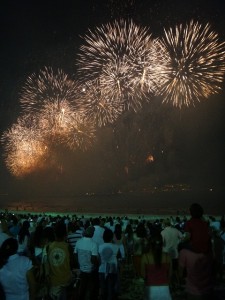 First things first: all our best wishes for 2013 to our loyal followers. I'm not the biggest fan of big New Year parties. Except for a couple of memorable parties during my student times these parties usually turn out to be a bit of a let-down, much ado about nothing. But a year must end someday and we wanted to be in a 'special place' for this trip. I guess the most famous places to be for New Year are Sydney, London, Berlin, New York and Rio de Janeiro. 6 years ago I was in Australia for New Year but on purpose avoided all the craziness (and high prices) of the party in Sydney and spent the night with friends in the middle of nowhere in the Australian bush. Although we had a great time, I regretted not having been in Sydney when I saw the fireworks on TV afterwards. So this time I wanted to be in the middle of the action.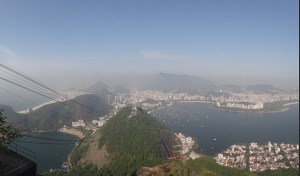 Both Sydney and Rio were candidates when we were planning the trip. In the end it turned out to be Rio. When we started to talk about our plans to people who know a bit about Brazil, they told us we were completely insane: "Do you know how expensive Rio is on New Year and how hard it is to get to a place to stay?" We didn't… but we found out soon. During a first search online the cheapest place I could come up with was 80 euro per person per night in a dormitory with 16 people. And it wasn't just the accommodation that is expensive. "Cariocas (inhabitants of Rio) have completely lost their minds. Ever since they have won the bid to organize both the Olympics and the World Cup Football, they think that their city is the centre of the world and have doubled or even tripled their prices. "I was told by the same person that until two years earlier had been a walking commercial of Brazil and Rio and would not skip a year without a visit. Others told us bluntly to change our trip and avoid Rio by all means at this time.
It was too late for that so we had to go look for some solutions. The solution for the accommodation came in the form of 'AirBNB' (Thanks for the tip Annelies!!!); a website where people rent out rooms in their house for a short period. Even there the prices were often incredibly high but in the end we found a girl who offered a sleeping couch in her living room for about 50 euro per night. A real bargain! And it got even better when we got there and she told us she would be absent during our stay. So we actually had the whole apartment to ourselves. The location in Botafogo was only 2 metro stops from the beaches and action of Copacabana and Ipanema.
Given the high costs and the fact that future trips to Brazil would definitely bring us back to Rio, we only planned to spent 3 days in the city. So we knew we would only be able to get a slight taste of the city. Our first day we took some time to acclimatize (Caro was thrown into the humid summer heat straight from Belgian winter) and had a bit of a walk around Botafogo and checked out Copacabana. There we also paid a surprise visit to Roshni, a friend that I had met while travelling in Asia in 2006. Originally from Chicago she moved to Rio five years ago and now has her own travel agency. She gave us a bit of 'sales pitch' and we soon realized that if you want to experience just a bit of Rio, you at least need a week. Apart from the obvious tourist attractions (Sugar Loaf, the Christ, beaches), hiking, climbing, cycling, surfing, martial arts all are must do's. Since our time was really limited she advised us to at least pay a visit to the neighbourhood of Santa Theresa.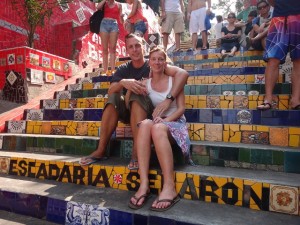 Day 2 would be a very busy and very hot day. We got up early and walked out to the 'Sugar loaf' for some views of the city. We got up just in time before the smog obscured most of the views. When we got back down we decided to go to take Roshni's advice and head over to Santa Theresa. Easier said than done, it turned out. The usual transport from the city centre to the neighbourhood, an old fashion open tram, had been out of use after an accident in 2011. So we had to somehow catch a bus there. Busses can really take you everywhere in Rio, unfortunately there does not exist any documentation whatsoever where you can catch which bus. After a couple of failed attempts to localize the bus stop, I started getting nervous about asking around in a neighbourhood that was not considered the safest during weekends. Moreover I started to spot a number of suspicious characters around us and I was starting to consider to get a taxi when a huge security guard offered to walk us to the bus stop. The Santa Theresa neighbourhood was indeed really nice, even though there are no real attractions. The walk down to the centre is exciting as you are walking at the edge of the favelas the whole time but we never felt unsafe.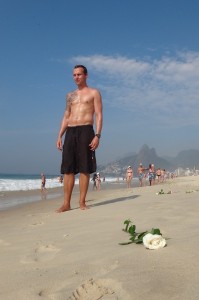 The last day of the year we spent at and around Ipanema beach. A great place for 'people watching'. I don't think I ever seen so many beautiful people in one place as in Rio. There really is a 'beauty culture/obsession ' going on in this country. In the morning it seems that half the city is out for a run or bike tour or working out at an indoor or outdoor gym. And if the gym can't fix the issue, plastic surgery will. The results can be seen on the city's beaches: perfectly sculpted bodies in the smallest possible bikini's or swim shorts. But beware topless sunbathing is prohibited by law. And people will call the police if they see someone do it …why they do this is not entirely clear to me: their catholic values ? or just 'unfair competition'?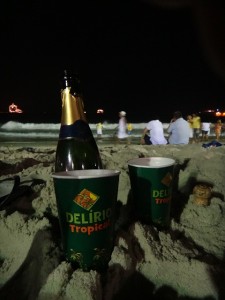 In the afternoon we went back to our place to get some rest and some food before heading to the Copacabana for the biggest party I've ever been at. Every year more than 2 million (!) people gather in the bay of Copacabana to watch the fireworks and music shows. From the late afternoon car traffic is no longer allowed to enter this part of the city. Public transport is using special tickets for the night. We only learned about these special tickets a couple of hours before sales ended the night before. In order to spread the flow of people, the tickets are only valid for one hour. Being late with buying the tickets we had to leave to the beach between 19 and 20 hrs. We found ourselves a nice little spot on the sand and watch the beach fill with people and the bay with cruise ships while sipping some local 'champagne' and enjoying the last hours of the year in a sweet 25 degrees. When midnight got close the beach was really packed with people most of them dressed in white as tradition requires. A couple of minutes before midnight the music at the stages stopped and a big roar rolled over the 4 km of beach. Next the countdown started on the giant screens. You can't imagine what it feels like when 2 million people start to count down. It really sent shivers down my spine. At zero the biggest firework display I've ever seen erupted from 15 or more boats anchored in the bay. Copacabana in itself is an impressive sight but seeing the enormous crowd go insane and the sea and sky getting coloured blood red by the fireworks is really mindboggling. This only makes it worth dealing with all the hassle of coming to Rio for New Year or Reveillon as they called it here.
As the crowds near the music stages were way too big we left the Copacabana and made our way back to Botafogo shortly after the fireworks. The whole (slow) walk to the metro station was like a big practice for that other main event in this town; Carnaval . Samba bands played all the hits that were being screamed along and danced to by all the onlookers. Two hours after the end of the fireworks we arrived at our place where they were also throwing a party but as we were leaving town the next morning we decided to call it a night.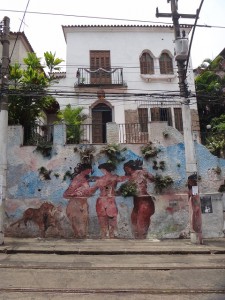 We will definitely be back in this town in the future, to experience it a bit more in depth but I think we both agree that it can be added to our list of favourite cities. A question that a lot of people (especially some of the FIFA and Olympic comity members) are asking is whether the city is ready to organize the huge events that are coming in 2014 and 2016. So far the focus has been on safety and apparently the town has really been 'cleaned up'. We never really felt unsafe and police and security guards are really omnipresent. But I believe there is still a lot of work to be done in other areas. The accommodation issue is one of the main concerns. Another one is public transport. The system seems to be really well organized…if you know it. For us it looked like one big labyrinth for which no map exists. Also language skills are a big problem. For example in the public transport services and restaurants we hardly found anybody who spoke any English…and even Spanish was frowned upon. It was often quite a challenge to communicate with only my 'teach yourself Portuguese in 6 weeks' knowledge. That being said these people are so keen to show the world about their town that I'm sure they will overcome these issues by 2014.
[ad-gallery orderby="menu_order" width="550px" height="300px" imagedesc="none"]