So finally I'm back in Africa and I must admit the thought of going to Africa was both exhilarating and intimidating. But at first sight Nairobi did not seem as bad as all the stories would like me to believe. That being said we didn't really linger around much but instead decided to kick off this trip with the one thing most travellers do here in East Africa: go on 'safari'.
"Too bad we have seen so few animals so far"… our safari guide said to me at lunch time on our 1st full safari day. We had seen that morning: a herd of elephants, several giraffes, hundreds of buffalo, thousands of migrating wildebeests (aka gnoes) and zebras, a cheetah with a fresh 'kill' and a pride of over 10 lionesses and cubs also with a kill. I don't know what they are used to there in Masai Mara but we were duly impressed.
Our choice for "the Mara" had been partly decided for 'budgetary' reasons ( safaris here are cheaper than in Tanzania) but mainly because of the great variety of 'game' (Safarian for wild life) and especially a lot of cats. One of my favourite wildlife shows, BBC's 'Big cat diaries' is filmed in Masai Mara. It must be said we were not let down. With the cheetah and lion pride, we were very happy. The only 'disappointment' was that on our way back to the camp, we missed to see a leopard that had just been seen there a couple of minutes earlier. Her 'kill' was still up in the tree but she was gone. The leopard is very hard to spot (they are masters of camouflage) and is always high on the list of visitors. Our guide told us that we could maybe see another one on the last game drive the next morning.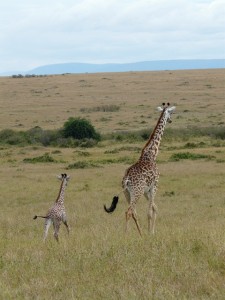 Even though morning drives are probably the way to see the cats, I didn't have much hope: our time was limited and so we would not be able to go far into the park. So when the next morning we spotted a couple of hyenas (which I had never seen before) feasting on a wildebeest, I considered the drive a success. But we had some more time and from the distance we saw a herd of wildebeest in a rather strange formation up on a hill, our guide went to check it out and all of sudden yelled 'big baba lion' and start racing to the scene and a couple of minutes later we (people with normal eye sight) saw it too; a gorgeous male lion staring at the herd of wildebeest. And there was more… two lionesses tearing apart a wildebeest that had been killed shortly before. It was like 'big cat diaries' right before our eyes inclusive the sound of the lion's teeth grinding against the bones of the unfortunate wildebeest while our cameras were clicking away. Amazing to see how these cats can separate the intestines of the prey with chirurgical precision without spoiling the juicy bits of meat. Talking about a good morning drive! But there was more… Since we were very close to the spot where we missed the leopard the day before and because we were feeling lucky this morning we went to check it out once more.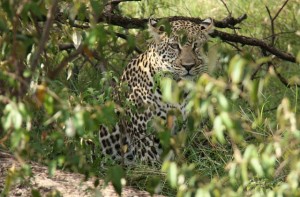 When we got to the spot, we noticed that the kill was still in the tree and had been partly eaten but the leopard itself was again not up there. But all of a sudden we noticed some movement in the bush under the tree… and yes there she was and she was absolutely gorgeous! That really made the safari complete and so we drove back to camp very satisfied with a quick detour for some close ups of mister 'king of the jungle'.
For Caro it was her first safari and with the exception of a rhino, she got to see almost all of the big animals around. A nice way to get started with our Africa trip don't you think.
You will find a number of selected pictures of our 3 days at Masai Mara and the selection has been a lot of work: over a thousand pictures shot in only 3 days.
Next up: Arusha (Tanzania)
[ad-gallery orderby="menu_order" width="550px" height="300px" imagedesc="none"]