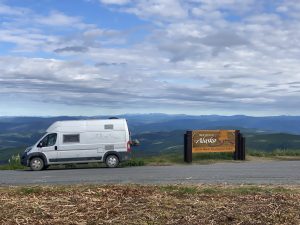 Oh dear, where shall we start on this? Perhaps with our own expectations. There had been quite a bit of deliberation on whether or not to include Alaska in our itinerary. Not only because of the big additional distance (and resulting time pressure). But also because we were not sure what to expect of Alaska. We read some mixed reviews going from "the best nature/wilderness/wildlife ever" to "completely overrun by tourists in summer" & "Disneyland wilderness". And then there was the Alaskan weather, which can be very fickle to say the least. We were told to expect very unstable, cool to cold weather and count on 60% of rainy days. So we kept our expectations very very low…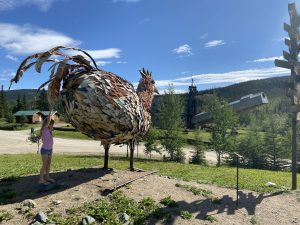 We arrived in Alaska through one of the most beautiful border posts that we have seen in all our travels. High up in the hills and with only woods as far as you can see on both sides of the border. So after crossing the border it took quite some time (bad gravel road) before the first signs of civilization became visible at the town of 'Chicken'. The town was supposed to be named after the local bird 'Ptarmigan' but because of the confusion on how this was pronounced, the miners who set up the town, decided to go for 'Chicken' (to which a Ptarmigan vaguely resembles).
We took the obligatory picture with the Ptarmigan (or Chicken) statue and headed onwards.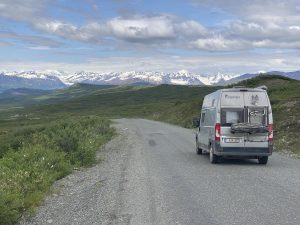 As we drove deeper into the country, the mountains got higher and the views more spectacular by the mile (yep this is the USA so we were calculating miles to km from now on – and were confused for at least a week). Our first destination or rather journey was the Denali Highway. This old highway to Denali National Park is a long gravel road on which we cruised and bumped for two days while being amazed by the incredible wilderness all around us. We were just two days in Alaska and really wondered, how things could ever get more beautiful than this. This "how can things get more beautiful", would be a common theme for the next three weeks. And each time Alaska would throw another surprise at us.
Denali National Park itself, is subject of a lot of discussions with travelers. Some find it the most beautiful park in the USA (and the world) while others find it very much over rated. We liked it a lot! In order to protect the nature and keep the wildlife 'wild', the access to the park is very restricted and regulated. Only a small part can be accessed by car. To visit it the rest of the park you need to either walk or travel in a park (shuttle/tour) bus.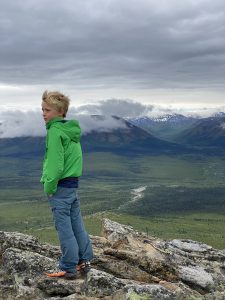 We started with the first option and did two beautiful hikes to look-out points. During the 'savage alpine' hike, we had our first Alaskan "national geographic documentary" moment. When we got over a pass, we noticed a golden eagle circling around looking for prey. We lost sight of the eagle until a couple of minutes later, all of a sudden, out of nowhere it swooped down and dove right past us and only just missed a marmot that had been looking at us instead of being focused on the predator in the air. We heard that these 'golden eagles' are real 'bad boys' that even sometimes hunt for deer or small sheep. Leon was mainly worried about our backpacks as he had seen a movie in the visitor center of such an eagle that stole a backpack that was left unattended.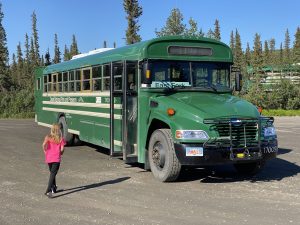 So after the walking, we got on a shuttle bus for an afternoon and evening drive. Even though the main objective of the 'shuttle bus' is to transfer people between different sites, we were lucky with a talkative driver. We got more background on why the restrictions are in place and how these are constantly being challenged. He was also great at spotting wildlife. We were very happy to finally see some caribou. But there were also grizzly, moose and eagles. And the scenery was just stunning!
The drive started under a cloudy sky but ended with a bright evening sun, so at the end of the drive we even got a very good view of Denali Mountain.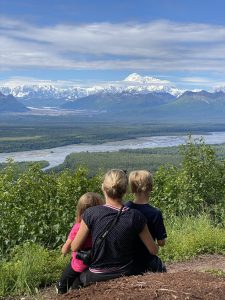 Denali mountain (with 6190m the highest mountain in North America) is really impressive due to its isolation in the tundra but also because of its enormous (5500m) 'base to summit' difference (cf. Everest rises 'only' 4700m above the Tibetan plateau). In fact, the mountain is such an obstacle, that it creates its own weather systems. As a result, it is covered in clouds most of the time. It is said, that only 30 percent of visitors of the region gets to see the mountain. Lucky us, as we got to see it several times. We already caught a glimpse of it on the Denali Highway and then had the surprise appearance during the park bus drive. On the day we left Denali Park to drive south towards Anchorage, we were able to enjoy its views all day.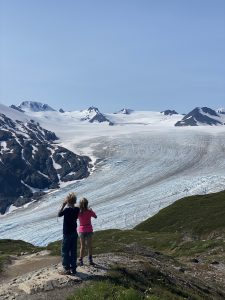 After a short hike in Denali State Park we started heading south to the Kenai Peninsula quickly. The weather down there tends to be rather wet and a window of good weather was coming up, so we put the pedal to the metal. Exit glacier was our first stop on the peninsula. The glacier used to be a very impressive sight from the valley but has now retreated very far. However, there is an opportunity to hike up to a mountain pass to see the icefield that lies behind the retreating glacier. But it is a very tough hike up (15 km round trip and 1150m positive elevation). The kids had done great on hikes before so we took our chances…and they managed easily! Actually on the way down while most of us were starting to get tired, they were running from one patch of snow to the next, while being cheered on by amazed hikers. And yes the views up there were amazing. The icefield and glaciers dwarfed whatever we had seen before easily!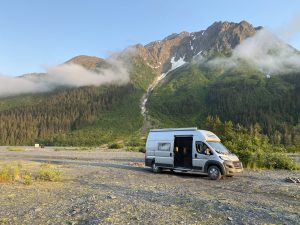 That night we camped in the dry riverbed in the valley carved out by the Exit glacier. Camping in Alaska was so amazing. There were plenty of places to 'free camp' and nearly all of them were so beautiful. We don't spend that much time searching for the 'nicest spot' and mostly go for 'practical' spots. However, in Alaska you almost have to search for a spot that is NOT scenic.
Before heading to the other side of the Kenai peninsula we did a short hike to a beach near Seward, where we got all excited because we saw 5 salmon swimming up the river mound. We had no idea about the numbers of salmon we would see in the next weeks.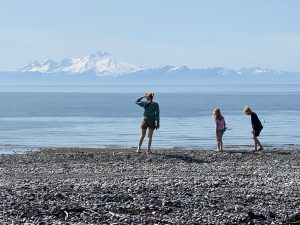 On the other side of the peninsula in Ninilchik we stayed a couple of nights at what would become our favourite beach in all Alaska. The views of the snow-covered volcanoes across the Cook Inlet were simply hypnotizing. You just couldn't stop watching. Or stop taking pictures. Sorting out the best pictures of just one afternoon will probably take us a week. We even managed to see the (almost midnight) sunset for the first time in months.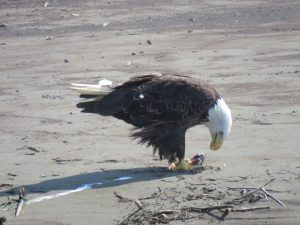 And then we haven't even talked about the wildlife. There is a saying that "there are more bald eagles in Alaska than there are pigeons in New York". We thought that was a little exaggerated until we got to Ninilchik where these impressive birds were really everywhere you looked.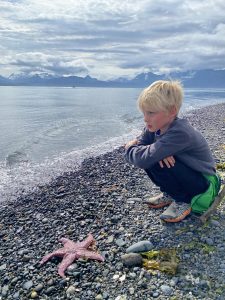 We could have stayed on this beach for weeks but it was already the end of July. In less than a month we needed to be in Vancouver to meet friends and there was still so much to see and do in Alaska. So we packed up the van and drove on to the Homer, 'the end of the road' town of the Kenai Peninsula. The town is immensely popular with (ahum) 'sport fishers' who easily pay 500 dollars pp for half a day at sea. We are not into fishing but there is another thing that Homer is known for. It is the launching pad for flights to the Katmai National Park, which is known as one of the best spots in the world to see Grizzly bears fish salmon. But…these trips are really expensive: at least 1000 eur pp for a day trip (with no guarantee to see bears). We had a very hard look at our finances and even though we really would like to see this spectacle, this was way beyond our budget. So we would have to look for the bears in other places. For now the kids were already very happy to see a seal, some sea stars and sea otters.
A look at the weather forecast taught us that it was time to leave the Kenai Peninsula and start heading for the other side of Alaska, where another 'good weather window' was opening up. So in three days we drove about 900 km to our next destination: Valdez. "Three days for 900 km" I hear you think. Well yes, it is not so easy to drive fast in Alaska. And that is not due to bad roads or traffic jams. It is just that it is so incredibly beautiful, that you want to pull over after each corner.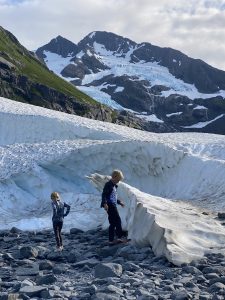 Our first driving day we ended with a nice evening walk to another glacier near Portage. This time we could even walk on part of the glacier that got separated from the main glacier. On the next day we managed to drive half the Richardson Highway towards Valdez. As we were driving through the capital of Anchorage, we had to stop there of course. Not for any tourist visits. Our destination were the big supermarkets, to re-stock our supplies. We would be away from cities for the next 3 weeks. And outside the Alaskan cities, groceries are really really expensive. So with an 'expedition cooking' like shopping list, we raided a couple of supermarkets before heading out East for nice hike to yet another 'glacier overview'. We heard about this 'unofficial' hike (partly on private land) through a Dutch travelling family that we follow on Instagram (and we hope to meet some day in real life on the road). The hike was nice but for the kids, it was the 'surprise act' at the end that made the day. Just before getting to the parking lot, we nearly bumped into two moose grazing next to the path. We had seen a couple of moose before but always from a car. Standing eye to eye with them was something else. These animals are huuuuuge and they can get quite aggressive (there are more incidents resulting in injury/death with moose than bears in Alaska), so we gave them some space while admiring them.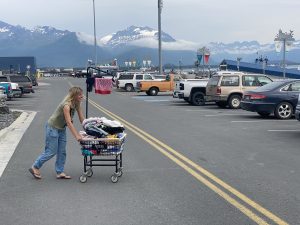 The next day we finally managed to finish the trip to Valdez, where we once again took advantage of the great public facilities in Alaska. As we were 'wild camping' 90 pct of the time in Alaska, we were really depending on public dump stations, showers and laundry. And Alaska really has travelers covered with all these facilities (called 'comfort stations') that are provided by most little towns.
So all fresh, we were ready for a surprise we had prepared for the kids the next day…