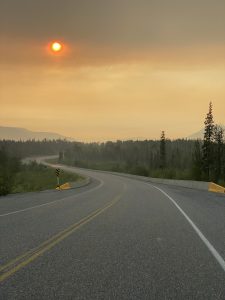 It is a long way from the Canadian Rocky Mountains to the Alaska border: 2500 km for the shortest route (which we did not plan to take). Adding a loop to Alaska to our trip would tag at least an additional 8000 km to our trip. This is not something one can cover (and enjoy!) in three weeks. So you will understand that it took quite a bit of deliberating on whether or not we would do this. In the end we decided to go for it. On the one hand because it was a unique chance to visit Alaska in a more or less 'affordable' way. You can of course fly into Alaska and rent a campervan there, however this is a very costly affair and with our own wheels we could cut back a lot in these costs. On the other hand it also offers to opportunity to explore the vast Yukon & BC region in North Canada 'en route'. A region with some really nice scenery and attractions but even more remote to get to than Alaska itself. So, off we went on the Alaskan Highway.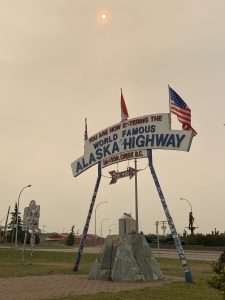 Aroad to Alaska had been discussed for quite some time at the beginning of the 20th century but there had never really been a good business case; there was a well-established sea route & most of the region through which it would run was completely deserted. This all changed when during World War II, Japan was beginning to threaten some of the islands on the Alaskan coast and the need to transport heavy artillery up north arose. After 25 years of discussions, now, in a matter of days, the proposal to build the 'Alaska Highway' aka 'Alcan' was approved and construction started.
The Alcan officially starts in Dawson Creek and it is not a secret that the first 700 km are not the most exciting. Moreover, there were still some wildfires going on in this region when we started the journey. The fires had started in May and were more or less under control but were still creating a lot of smoke. So even though there was not a cloud in the sky we were driving for hours in semi darkness because of the thick smoke.
Only on the second day the landscapes began to become interesting again as we approached the Northern Rockies. After a nightly thunderstorm the smoke had cleared and we could enjoy clear blue skies. And it got hot, up to 30°, so we often stopped at lakes to cool down a bit.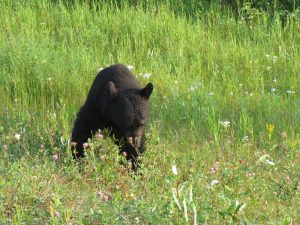 We had heard amazing stories about all the wildlife on the 'Alcan', and we were a bit frustrated that after a 1000km we had only seen one 'lost' caribou. But the second evening we passed by the Alcan Bison herd at the side of the road and the ban was broken. The next 2 km we saw two black bear. And it didn't stop for the next days. There were foxes, a moose, a lynx and so many bears! It seemed like all the black bears got out to eat the wildflowers by the side of the road. At some point we did no longer stop for pictures of black bears. We did still get all excited when we saw one though.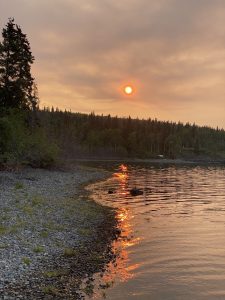 While we were approaching the Yukon province, the skies started to get hazy again from the big fires further north. The advantage was that we got some really beautiful colorful evenings. I wanted to say sunsets but we actually never saw the sun set. This far north the sun hardly sets in June and July and we never managed to stay awake to see it happen (neither did we ever wake up before it got up).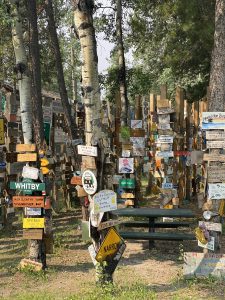 Our first stop in Yukon was at the 'Watson Lake Sign Forest' where travelers have left signs since the early 2000's. These signposts have become a real forest of signs. Really interesting to check out. After driving around for 2 months, it came as no surprise that the large majority of non-North American travelers that left their mark were Germans. And (also no surprise),  they came well prepared with what seemed like official signs of their home towns in Germany. We were not as well prepared…but we have creativity! With the materials provided by the visitor center, we created our own sign, which we hope will still be there in 20 years.
While we were preparing our sign, the sky blackened once more with wildfire smoke and the atmosphere became apocalyptical again. In Watson Lake we also met with Suzanne and Tommy (the other "Belgian Fiat Ducato overlanders") again. We camped together that night near Teslin lake, after we had to leave our first campsite because rangers were trying to catch an 'aggressive bear' at that spot. It was really interesting to hear about their adventures and how they are testing their self-built camper van on all the gravel roads that they can find.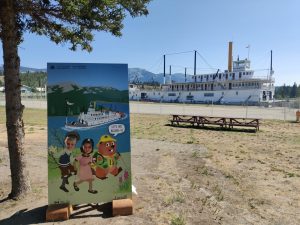 We briefly visited Whitehorse (the capital and only real city in Yukon) to check out the SS Klondike (a 19th century steam boat) and to stock up on supplies because we were about to take a side trip from the Alaska Highway (and would be pretty far from civilization for some time).  The side trip was the Klondike Highway. This highway, with Dawson City as a final destination, follows one of the main routes used by the 'stampeders (gold seekers) during the last real gold rush at the end of the 19th century.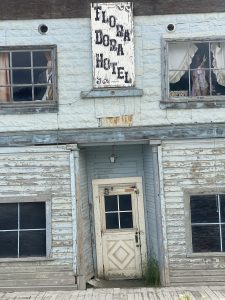 After gold was found near the Klondike River, during two years ,more than 100,000 adventures from all walks of life left everything behind and headed to the very 'unwelcoming' northern tundra in search of quick riches. Only about 20-30,000 of them made it to the actual goldfields. Of those only a couple of dozens actually found gold…and only a handful walked away and lived in wealth afterwards. Most of the lucky few that did find gold, spent it all in the decadent town of Dawson City. A town that has risen from the tundra in no time and was a beehive of activity during 2 years. Population went from zero to 20.000 in the blink of an eye. After 2 years it was completely deserted again. Today gold is still being mined in the region (bringing in millions) but the glory days of the end of the 19th century never came back. It is a pleasant town to visit nonetheless and with enough imagination (and through all kind of tours, cabaret shows, etc.), you can still experience a bit of the glory days of 1897-98.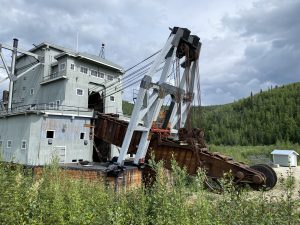 Near Dawson City and very close to Bonanza creek (where the first gold was found), we also visited the open air museum 'Dredge nr4'. This monstrous machine was used until the 1960s to cut up complete valleys in search of gold. With these barges that really look like some kind of science fiction monster, the earlier gold claims were re-worked by digging a lot deeper in the surface. The devastation can still be seen until this day.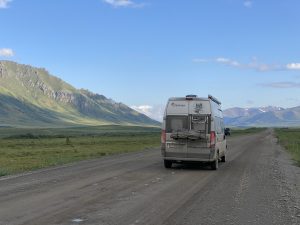 Before heading over to Alaska, we did another side trip of the side trip. We left the Klondike Highway and drove the first 100 km of the infamous Dempster Highway to Tombstone park. We had hoped to do some scenic hikes but unfortunately, it rained for the most part of the 3 days we were there. The sun did come out one evening and it was gorgeous. After having driven only about 10 pct of the gravel Dempster Highway (the real overlanders drive it all the way to the Artic Ocean), we came to the unanimous decision that we are not the biggest fans of driving on rough gravel roads. But there was a lot of just hat waiting for us in Alaska and it would already start with our way out of Canada on the 'Top of the world' highway.