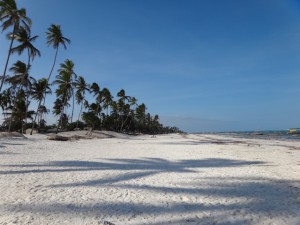 After the cold adventures on Mt K we were happy to descend into a warmer climate. And boy did we get what we wished for! The 8 hour bus ride from Moshi to Dar Es Salaam was a killer. The 'full comfort' bus did not have any A/C so we basically got cooked and grilled. On the few stretches with not too much dust the windows could be opened which then felt like we were being blown dry with gigantic hairdryer. We had been sitting down for 8 hours but were still completely exhausted when we arrived in Dar Es Salaam.
Dar Es Salaam is another African city to quickly forget. Crime all over the place. The number of people I met, that got mugged, pickpocketed or ripped off in that place is incredible. It seemed as if only a minority of the travellers gets through unharmed. Not a place you want to hang around for a while. So we were planning to stay the night and hop on a ferry the next morning.  Unfortunately the next day was a public holiday (the end of the Hadj – the pilgrimage to Mecca) and all the ferries were apparently fully booked. The prospect of having to spent another day in this place did not make us happy at all! We got to the office and tried to get on a waiting list for one of the boats and we got very lucky because some online bookers did not show up and we were able to take over their reservations last minute.  2 hours later we were on the much more enjoyable island of Zanzibar. I could immediately see why so many people fall in love with this place.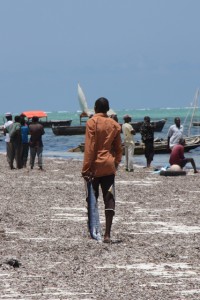 We spent the next three days, recharging our batteries on the isolated beaches of Matemwe on the East coast of the island.  We got ourselves a little 'budget bungalow' right by the (white sandy) beach and spent a lot of time reading and watching the local fisherman prepare their sailing boats in the early morning  and sell their catch in the early afternoon. A couple of hours later some of that catch would be on our plates in all kind of delicious seafood dishes that our host Mohammed and his family came up with.
We had started to live with the sun while on Kilimanjaro and just continued on that rhythm in Zanzibar. At 6 am I would go out for a run on the beach while the temperature was still more or less bearable.  During the midday heat we would take shelter in the hammocks under the trees. Late afternoon we would come alive again and go for a  walk on the beach. As we were not staying at one of the most popular stretches of beach and there were not that many tourists around, most of the locals were very relaxed and we did not get a lot of hassle as the guidebooks predicted.
Before leaving the island we also spent a couple of days in Stonetown the historical centre of the island.  Zanzibar is also known as the 'spice island' because its former role in the spice trade. Caro went on spice tour and came back with some of my favourite spice teas.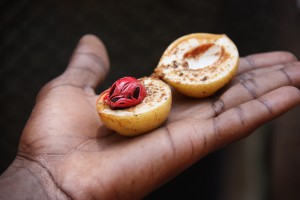 Zanzibar is also the place I had to say goodbye to Caro as she needs to finish her work at home before joining me again for part 2 of the trip after Christmas. So from now one, I will need to learn how to survive as a solo traveller again.
[ad-gallery orderby="menu_order" width="550px" height="300px" imagedesc="none"]