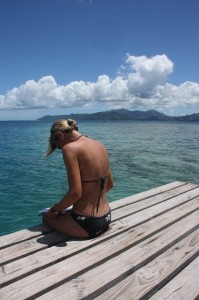 As we arrived in Tahiti, I realized this the furthest I have ever been away from home. It is actually about as far away as one can get from Europe. If we fly any further westward we will be closing in on Belgium from the east. So why would anybody want to travel that far to visit some small islands in the middle of the Pacific Ocean? I suggest you google 'Bora Bora' and choose 'images'. A number of gorgeous pictures of a lush green island surrounded by a lagoon in all diffent shades of blue; from turquoise, over indigo to navy blue. It does look like paradise doesn't it? Most budget travellers that come here only spent a couple of days on the main Island of Tahiti and or the neighbouring Mo'orea, tick the box for 'French Polynesia' on their 'travel CV' and quickly hop back on a plane that will take them to either New Zealand, Australia or Chile/Easter Island. Why this rush? This has all to do with the reputation of French Polynesia of being a 'high end', 'super expensive' destination.
We figured that as these islands are so far from everything, this would probably be the only time in our life that we are here so why not take some time to get to know the place. And so we planned to hang around for a full month. "Are you guys crazy?", "Have you won the lottery or something?" . Our fellow travellers surely had their doubts about our 'one month' plan. Everybody was sure we would be completely ruined. But is it really that expensive? Yes! …and No!
'Yes' flying to these islands from Europe is really expensive. You will be lucky if you find a flight under 1800 euro. But as our flight out here was part of a fixed price 'round the world ticket' that did not really impact our budget. And 'yes' transport between the islands is expensive as there are often only air connections. But if you check the 'promotions' of Air Tahiti, you will find that 'air passes' exist that allow you to fly between up to 6 islands for the price of 2 'normal flights'. And 'yes' the 'overwater bungalows' of Hilton and co at Bora Bora will easily set you back 500 euro for 1 night (low season price!). But if you look around you can also find plenty of small pensions and bungalows for about 60 euro a night. Ok, they are mostly not situated right on the beach (some of them are!) but they'll give you a free bike or kayak to ride or paddle out to all the beautiful spots. Nearly all beaches and the whole lagoon(snorkelling!) is public domain so they can't be claimed by any hotel. Food is not cheap either as supplies must be imported but most budget hotels have a kitchen and if you shop around (buy the New Zealand import rather than the French import) you can get a very nice meal for the same price as you would pay at home. And if you don't feel like cooking, nearly all the bigger islands have 'roulottes' that come out each night. The 'roulottes' are little vans that have been transformed into riding restaurants, serving huge portions (huge as in 'even Jan struggles to finish them') of anything from pizza, steak-frites to the delicious local 'poisson cru' for under 10 euro. As it turned out we only spent about 15 euros/day each more than we spent in Brazil or Argentina and we definitely did not need to live like monks. It's all about doing your homework. It takes some time but it allows you to see some great islands without breaking the bank.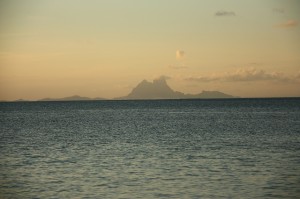 We started our journey in Polynesia in famous Bora Bora, the honeymoon island, holiday spot of the rich and famous. Our host Gerard had met some of these stars and had his own opinion on most of them: Pierce Brosnan and Morgan Freeman: "awesome down to earth guys", Claudia Shiffer: "Ah you immediately see why she became famous when she walks by… ohlala!", Nicole Kidman "completely paranoid, she rented all the helicopters on the island to avoid being photographed by paparazzi".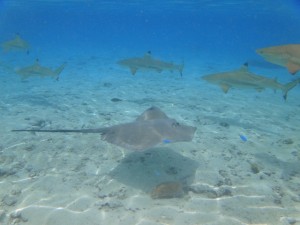 On our first day we were quite KO after a short night sleeping in the airport terminal. We arrived at 1am and had our flight out to Bora at 7am so we just rolled out our sleeping mats and sleeping bags and slept a couple of hours in front of the check-in counters. Once we got our stuff dropped at our Bora Bora pension, we biked to a gorgeous beach to sleep a bit more and do some snorkelling. The next day Gerard took us out to the other side of the island where we crossed the lagoon by kayak and spent the day snorkelling and paddling around some tiny little islands ('motu's') and visiting some of the friends that our host seemed to have all over the island. The scenery was absolutely awesome and apart from our host's friends we didn't see a living soul all day. We passed by the 'millionaire island' and peeked in to see if any famous people were around.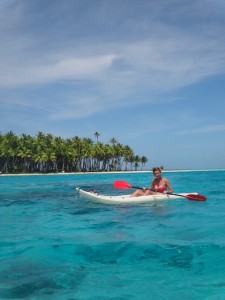 The island is owned by 'one of the most famous fashion photographers' and according to Gerard he often invites his favourite models over "Tu sais Naomi Campbell et tout ce bazar". Nobody was home. Day two we did the 'tourist thing' and took a 'lagoon cruise'. We shouldn't have… the snorkelling on our own the day before was a lot better and it broke our hearts to see all these people (including some guides) stepping on and breaking off the delicate coral reef. As cool as it was to see the huge stingrays and small sharks we thought it felt really wrong. The whole thing was not put into perspective. There is a big controversy about shark feeding . I have done shark feeding dives before and, it did not feel bad at all that time because there was a lot of awareness created about sharks; their importance in the underwater eco system and their very uncertain future. Here all we got was some clichés about 'Jaws' and 'missing arms and legs'. A missed chance.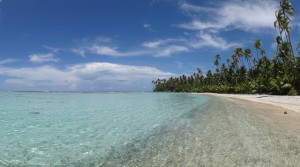 The flight to Huahine was a bit of a joke. Not even 15 minutes flying. Take off… pilot switches off seat belt sign…literally 2 seconds later pilot switches on seatbelt sign for landing. Huahine is completely different from Bora. Where at the latter tourists are almost the only source of income, In Huahine travellers are the exception. If there is something like paradise, we have found it in Huahine at the amazing 'au motu Mahare' with Walter and Kim. The French /English couple live with their daughter Daisy on a small motu (island) in the middle of the lagoon and have two gorgeous bungalows for rent. The whole place is super eco-friendly, relying completely on solar panels and recycled rainwater.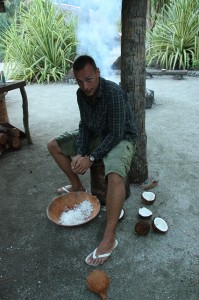 There is no restaurant but the owners suggest strongly to make use of the coconuts that are available. And so we bought some huge shrimps and planned to have our favourite shrimp curry with coconut milk. We had no idea on how to turn a freshly harvested coconut into the rich coconut milk but we were about to learn. Walter came out with a load of coconuts and he put us to work. Never thought it would take so many coconuts and so much work to make just enough coconut milk for 2 persons. First the mature coconuts need to be peeled using a specific technique. Then the core is opened with a well aimed blow of a machete (some do it with their bare hands). Once open, the 'flesh' needs to be rasped out . Finally all the 'coco flesh' is put in a towel and the towel is squeezed and voilà there is the coconut milk. We never had such a great curry before.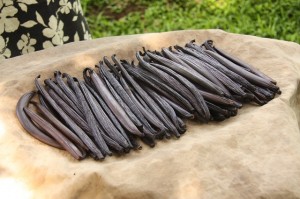 Next up was Ra'iatea, the vanilla island (some of the best quality in the world) where a local journalist took us around the island and gave us a great insight in the Island life. He explained how the educational system functions on the islands. Every village even the smallest has a primary school. In many cases as there is only a handful of children in one class with one teacher with all grades together. For secondary school the kids have to go to one of the main islands. They stay at a boarding school for 5 weeks and are home for 1 week. The flights to the island of the school are paid by the government. Those who want to continue their studies after secondary school have to go to the capital Pape'ete. But given the high cost of living in the capital, a lot of parents don't want their children to go to university. Another interesting thing is the role the 'Chinese' play in the economy. Actually these people can hardly be called 'Chinese'. They are 6th or 7th generation immigrants with hardly any bounds with China and with French nationality (they were granted the nationality provided they came up with a 'pronounceable '(read French) name) but they are still labelled by the Polynesians as 'the Chinese'. Even though they make up only 6% of the population they control 80% of the economy. In fact instead of saying that they go to the shop, the Polynesians say that they go to 'le Chinois'. However you hardly find any 'Chinese' person working in a shop. Apparently as they are often perceived as 'not friendly' by the Polynesians they always employ Polynesian people as shopkeepers. Unlike the island of Fiji where a similar economic situation (with Indians instead of Chinese) has caused a lot of unrest and even several army coups, in Polynesia there is hardly any tension and Polynesians and Chinese coexist peacefully. It is after all the entrepreneurship of these people that keep the economy more or less running. However it is a sign of the (bad) times that a lot of 'Chinese' business people are no longer investing in Polynesia but rather look at Hawai or New Zealand for new business opportunities.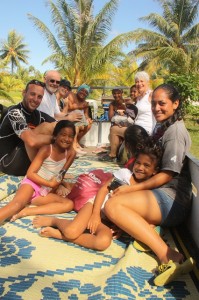 Our final stop on our tour around the 'Society Islands' was the wonderful little island of Maupiti. The islands looks a bit like a scale model of Bora Bora including the sharp mountain peaks and gorgeous lagoon. Many people like to compare Maupiti to Bora Bora in the 50's and 60's before mass tourism took over that island. It is a sleepy place spared from big hotels and tour group crowds. We stayed at the lovely pension of Tehei and her husband Cliff, the local policeman. Up to now we had always stayed at places owned by foreigners and it was great to get to chance to stay with a Polynesian family. We immediately felt at home and were considered as members of the family. Tehei took us on a walk through the very shallow lagoon (with stingrays and some small sharks circling around us) to her family who live on one of the small outer islands of Maupiti. This turned into a 'family trip' on a tractor pulled cart to the outer reef and the local watermelon plantation. We got lucky because that day they were harvesting the fruits and we got a taste of the goodies and I can promise I never had such a sweet watermelon. And they were huge too, most of them weighing between 10 and 15 kg.

Maupiti had two more highlights for us in store. The first was a hike to one of the peaks of the island. It was a very hot walk/scramble up the mountain but the reward was an absolutely stunning 360 view over the island and the lagoon and all the way to the islands of Bora Bora and Ra'iatea. Definitely the best views in all French Polynesia for us. The different shades of blue that were changing constantly with the changes in the light were so fascinating that we spent more than an hour on the summit just staring down. Some people who had seen us start the hike, actually got worried because we stayed away so long. They thought we had fallen off the cliffs.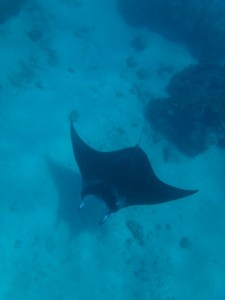 Our second highlight was a snorkel/free dive trip to go see some manta ray. In season these gigantic rays (up to 7m big) are known to come every morning to a specific coral rock (a 'cleaning station') in the lagoon. They will hoover above this rock while small fish feed on the parasites on their skin. Unfortunately we were one month early so nobody knew if they were around. Moreover the visibility in the lagoon had been pretty bad for a couple of days. People told us that they had seen a black shade moving that might have been a manta. Lucky for us our hosts know the lagoon very well and they would take us when they thought we would have the best visibility. We took off shortly after lunch and even before we reached the spot, Tehei already spotted some rays close to the surface. Caroline jumped in and soon came up slightly shocked as she didn't expect them to be this big and this close. While we swam towards the cleaning station we saw there was not just one manta but at least five. There was actually a queue in front of the cleaning station and the manta's took turns in going in, while the others were circling around waiting for their turn. Visibility was great and at some point we counted 7 (!) different manta rays circling around the cleaning station. I have been on a couple of dive trips where really experienced divers went through the roof when they saw one manta ray swimming some 20 meters away. And here we were swimming in about 5m deep water with 7 manta's circling under us not bothered at all by our presence. Visibility was much better than previous days due to a strong current. This meant that we had to swim constantly against the current to stay near the rays. After about 45 minutes and still completely overwhelmed by the scenes beneath the water but getting exhausted , we got back on the boat. Another great experience.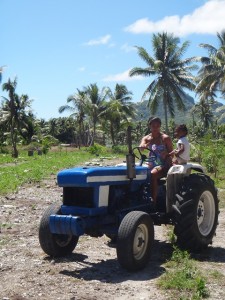 When we arrived at Maupiti airport for our flight back to Papeete, we realized how small this Island really is when we saw that the Air Tahiti hostess that was checking us in, was the same lady (sister in law of Tehei) that had been driving us around on her tractor a couple of days before. The capital of Papeete itself is unfortunately quite the opposite of small scale Maupiti. A 'real' city with not much charm, high prices and low quality. Quite a shock after nearly two weeks on the islands.
It's been a recurring theme for visitors of these islands to describe them as 'paradise'. Highly romanticized descriptions of these islands have been the rule. But is it really paradise? After only a couple of weeks on the islands we noticed quite a few cracks in the façade. The biggest issues the islands face are a collapsing economy and politics dominated by nepotism and corruption. The economy which is mainly based on tourism has been taken one hit after another the last decade. It all started with 9/11 but things got really bad with the financial crisis in 2008. Tourism in the whole South Pacific got hit by the crisis but somehow all other countries (e.g. Fiji, Cook Islands, etc.) were able to get back on their feet while in French Polynesia the downward spiral continues. No wonder if the country keeps advertising and marketing itself as an exclusive and expensive destination. About the worst thing one can do in times of crisis. A number of big tour operators have already left the region. Club Med is probably the most famous one. We have seen 'Club Med ruins' all over Polynesia. Others such as Thomas Cook are planning an exit . In the meantime the smaller budget operators and pensions do not get any support at all as it doesn't fit with the 'exclusive image'. A decline in tourism has sent unemployment rates sky high. The country is completely 'addicted' to the 'aid money' that is being pumped into it from the motherland France, needing more each year. All that while in Paris the government has the EU on its back to cut back its costs.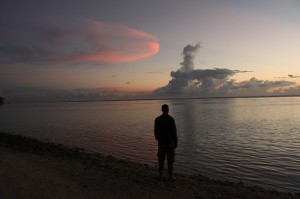 Instead of trying to get the economy back on track, local politicians have been filling their pockets for decades with the millions of euros of 'aid' from France. Some of the former rulers of the country have been convicted several times but manage to stay out of prison because of their 'parliamentary immunity'. As long as they get elected they are safe. And since they are among the richest persons on earth, they just 'buy' their votes at each election. Just before elections they distribute 'presents' and 'favours' to the voters who immediately forget all the complaints and objections they had.
How was this paradise lost? It all started when the first explorers started to arrive and the three main forces were guns, diseases and religion. With their guns and advanced war tactics a small number of Westerners were able to completely disturb the delicate balance of power that existed on the islands in Polynesia. On these islands no tribe was ever able to rule a whole island because once a tribe got to powerful, other tribes would make a temporary coalition and restore the balance. However a small group of mutineers (cf. the mutiny on the Bounty ) acted as mercenaries for a lesser tribal leader. With their help, Pomare became the first king of all Tahiti. The start of more than 200 years of bad governance. The second force had an even more devastating effect. Diseases (including alcoholism) brought in by foreigners nearly wiped out the complete population. Often only 10 % or less of the population survived these catastrophes. In the Marquesas for example only about 4000 of the 80,000 inhabitants survived these plagues. Finally In their typical manner the 'brave' old world Christian missionaries came to finish a Polynesian culture that had been so weakened by disease and alcoholism that it had lost all power to fight back. All Marea (temples) were destroyed (churches were built on top) and traditional customs (including tattooing) and rituals were forbidden. They did such a great job that a great part of knowledge of this great civilisation is lost forever.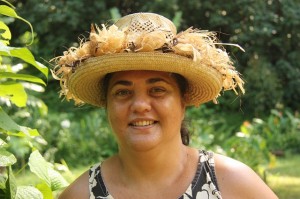 For two centuries Polynesian culture went into hibernation only to wake up again at the end of the 20th century. The last 15 years there has been a real renaissance in traditional culture. Traditional tattooing has become hugely popular among all ages. Non tattooed people have become a minority. It's interesting to see senior people proudly showing off their huge and brand new tattoos. Canoe racing is the most popular sport and traditional dancing is also a hugely popular and 'cool thing' among the Polynesian youth. At the beginning of the 1990's the government and tourist board launched a big 'smile more' campaign to the people of French Polynesia because many tourists had been complaining that the inhabitants were or looked really depressed and unfriendly. These days it is hard to believe that such a campaign was needed. Despite the hard economic times and political chaos everybody is all smiles and very welcoming and it feels really genuine. I like to believe that the renaissance of traditional culture has a lot to do with this increase in self-confidence and happiness…
Next up: The Marquesas
[ad-gallery orderby="menu_order" width="550px" height="300px" imagedesc="none"]